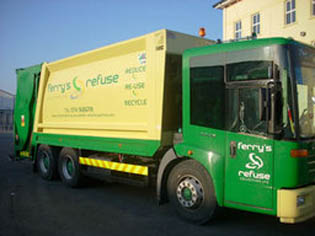 CONTROVERSIAL Donegal businessman Jim Ferry has sold the assets from two of his waste companies and agreed never to work in the sector again.
Documents provided to the Donegal News reveal how, as of July 20, the accounts belonging to two companies previously owned by Mr Ferry – Ferry's Refuse Recycling Ltd (FRR) and Ferry's Refuse Collection Ltd (FRC) – have been purchased by Galway-based WERS Waste Ltd.
Jim Ferry has been at the centre of numerous court proceedings in recent years, largely due to allegations of illegal dumping at his Rossbracken site.
The businessman was back in court last week where he confirmed that he had signed the assets from two of his companies over to WERS.
WERS recently took out an advertisement in this newspaper to say they were entering into partnership with Ferry's. But leaked papers reveal how that rather than teaming up with the Donegal company, they have actually bought it out.
See today's Donegal News for full story
Posted: 1:37 pm August 4, 2017