DONEGAL will attempt to keep their championship campaign alive when they travel to Pairc Tailteann, Navan on Saturday evening to face Meath in Round 3A of the qualifiers.
Rory Gallagher's team were unconvincing in their first game in the back door last weekend against Longford, but won by five points.
It's a quick turnaround to the game with just seven days between the matches, and it was only after the draw on Monday morning that they actually knew who they would be playing.
That doesn't give Gallagher and his backroom team long to prepare for the match, but the Donegal manager says he will be focussing on getting his own camp right, rather than worrying too much about the Royal county,
"I think at this time it's about looking after your own ship. Every team is the same.
"We're in the qualifiers earlier this year than we have been in a good few years, but it's not something that has caught us unaware. We would have been thinking about how we would handle it if we were in the qualifiers.
"Sunday was all about recovery really. The lads that didn't play would have done a bit of training, and anyone who took a knock would have been working with the physios.
"I suppose we did start looking at all our potential opponents, so when the draw is made, you've a bit of work done already."
Meath didn't produce a stunning display themselves last week, and were fortunate to see off Sligo in a tight tussle.
They do have the advantage of playing on home turf on Saturday, but Donegal are still favourites to win the game.
Donegal came through the game with Longford relatively unscathed, but Cian Mulligan will miss out once again.
Gallagher said: "Eoin (McHugh) took a bang to the side of his leg, but he should be fine for the game.
"Cian nicked his quad in the last run out before the match. He just pulled up on the Thursday and wasn't able to make the matchday squad.
"Unfortunately he won't be fit in time for this weekend's game, and it will be the middle of next week before he's fit.
"Hopefully if we can get over Meath, he'll be back in our plans for the next match."
Donegal traditionally struggle in their first qualifier game, and they struck 16 wides against Longford.
Gallagher was glad to make it through, but warned that his side will have to raise their game, if they are to make it through to Round 4A of the qualifiers.
"We came through the game last week, and that's what the qualifiers are about.
"I suppose Mayo are the most recent team to have shown that you just have to do enough to get over the line in the back door.
"We'll be hoping for better this week, and we know that we'll need to improve.
"If we miss the chances we missed last week against Meath, that won't be good enough to win us the game. We understand that."
FOR FULL MATCH PREVIEW, DON'T MISS TODAY'S DONEGAL NEWS
Posted: 12:30 pm July 7, 2017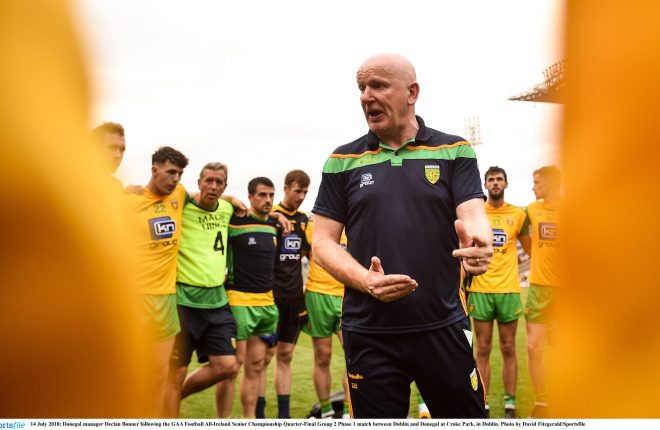 Donegal face Roscommon in Dr Hyde Park on Saturday at 5pm.