A ST Johnston man and a dog teamed up to rescue a Scottish couple who came into difficulty while out walking on Muckish Mountain.
Team leader from Donegal Mountain Rescue Team (DMRT), Garret Wilson, joined efforts with Cody, a mountain search dog from the Search and Rescue Dog Association Ireland North (SARDA IN) on Wednesday evening of last week to play a vital role in coming to the couple's aid.
The incident unfolded at around 5pm when gardaí received a call from the distressed couple to say they were disorientated and lost in thick mountain mist. Gardaí tasked DMRT to the scene.
The couple had been walking on Muckish Mountain but had become lost when the mist descended.
Garret was eventually able to contact the couple by phone and managed to determine the rough location of where they were. When he and Cody got to the general area, Cody went out in the mist to search for the couple. He eventually returned, barking to indicate he had made a find.
Cody then led Garret and his colleague up into a deep ravine, following the scent plume from the couple, straight to them.
Fortunately, both were safe and well, but had become stuck on ledges about 30 feet apart from each other.
They were eventually assisted down by the DMRT using safety ropes and returned to their car none the worse for wear.
Posted: 11:52 am June 23, 2017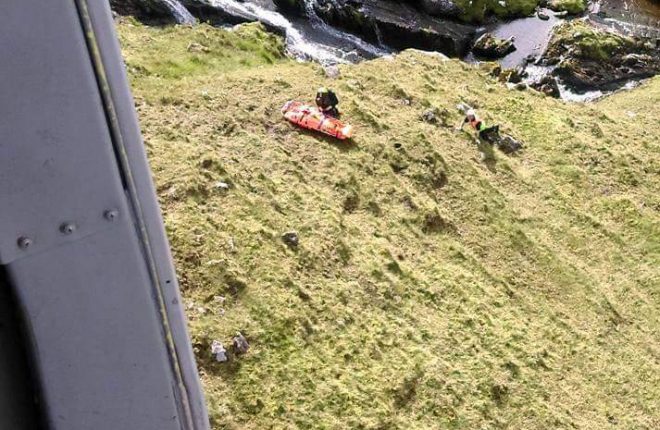 The female casualty suffered a lower limb fracture, wrist and facial injuries.
THE August Bank Holiday weekend 'Errigal 1000' event by Carrickfin businessman and adventurer Anraí Ó Domhnaill has raised an...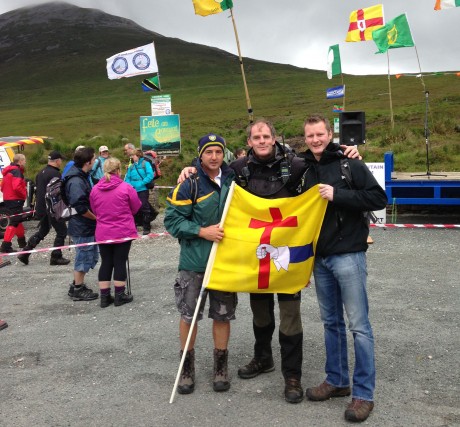 LAST Saturday, August 2, hundreds braved the torrential rain to climb Errigal with a Donegal fundraiser as he took...