Private Midwives Ireland has issued a plea for midwives in Donegal to get in touch, as there are currently no facilities to accommodate women who wish to have a home birth. With up to 30 requests annually from women from Donegal, they have had to turn them all down as they do not have any staff midwives in the North West.
Liz Halliday, the Deputy Head of Midwifery at Private Midwives Ireland, has expressed her concerns as she is inundated with requests from women from the North West every month. "We are getting constant enquires from women in the North West. We have even had women asking if they moved, could they have a home birth. It is a serious situation in this part of the country. We need midwives in the Donegal area desperately. I think the women of Donegal are not aware that this option is available to them, and after being turned down by the HSE, they just presume that there is no other option.
"The company started in Ireland in October 2014 and we have had enquires from Donegal women ever since, this is not just a recent problem. We need to raise awareness so midwives in the North West know we are in desperate need."
There is an extensive list of benefits women can avail from just by giving birth at home, she said. "There has been studies that show women having their first born at home, and women having their second born at home can be safer than in the hospital. We only employ the highest standard of midwives, who have a full education and years of experience working in hospitals. The main factor of having a home birth is that a woman has a continuity of care, and she will be dealing with the same midwife throughout her pregnancy and into her post natal appointments as well. Everything is pre-discussed, so when the women is in labour the midwife doesn't have to ask any questions. As well as that they form a relationship and a level of trust that you do not get in hospitals. If the women's behaviour is changing when she is in labour, the midwife will pick up on that as she has had such a close relationship with her throughout the pregnancy. Also, the women is in the comfort of her own home so the whole experience can be as straightforward as possible."
Meghan Rice, originally from America, is moving to Glencolmcille in South West Donegal in the near future with her fiancee who is originally from there. Speaking to the Donegal News, she said how she will hopefully be planning a family in the next year, and if all goes well she would like a home birth. That is until she did her research, only to find out that there are no facilities that cater for her needs here in Donegal.
"It is definitely time for a change in maternity care in Donegal, giving women real choices and ending the huge regional inequalities that have existed for far too long. Birth and maternity care in Ireland cannot continue to be a postcode lottery."
She added that she has already started to look at options available to her when the time comes. "As a result of our up coming move, I've done my research and found that the only way to achieve any sort of planned out of hospital birth in Donegal is for women to pay out of pocket for a private midwife. It doesn't sound that bad, but also the woman has to temporarily relocate to another part of the country served by private midwives as there aren't any currently in Donegal. The kind of expense involved in relocating for a month or more is likely beyond the means of most women, it is very difficult logistically for families and also means they don't receive the continuity of one to one care which is the hallmark of Midwifery."
Meghan, who has been working as a birth Doula in the UK for over seven years, added: "It is not a good sign when before they have even moved, women feel the need to plan ahead for alternatives to the available maternity care due to lack of options."
Shay Given, former Republic of Ireland goalkeeper, and his partner Becky Gibson recently had their second child together. Becky gave birth to a 11.5lb baby girl at home just after 90 minutes of labour. Shay, originally from Lifford, and his wife sparked the attention of hundreds as they tweeted to say there are no home birth facilities in Donegal.
Posted: 9:58 am June 7, 2017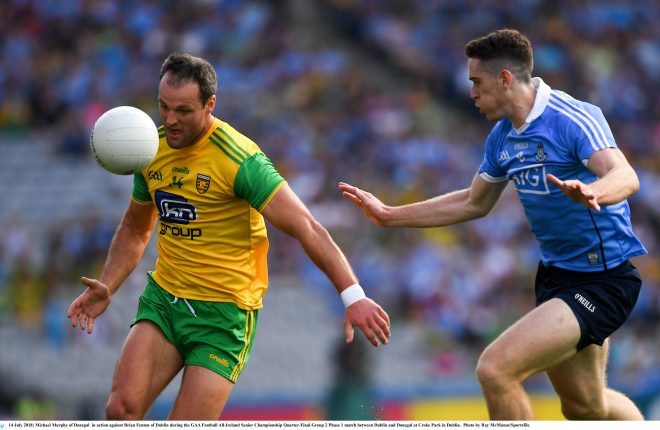 Dublin too strong in Croker.