PROMISING Letterkenny rugby player Conor McMenamin will forever remember two special days in Ashbourne, Co.Meath back in April.
McMenamin was selected for the Ireland Under 18 Clubs and Schools team which overcame England on two occasions.
It was testament to the hard work of the Coláiste Ailigh student that he was selected to wear the green jersey.
Last year when he was sitting his Junior Certificate, McMenamin was travelling up to places like Belfast, Magherafelt, and Ballymena three or four times a week to link up with Ulster Rugby's development squads.
He has been making steady progress with his provincial team, and then after battling hard at trials in Dublin, he was selected to line out for his country.
"I was honoured to be selected for Ireland," said the affable 16-year-old, as he collected his award at Brian McCormick Sports & Leisure this week.
"England came over to play us twice and we beat them on both days in Ashbourne.
"We stayed at the King's Hospital School in Dublin for two weeks and it was a really professional environment. It was a step above anything I've ever experienced with Ulster, and I really enjoyed it."
Standing at 6'5", McMenamin lines out in the second row for both his club Letterkenny and Ulster, and it was in the same position, that he played for Ireland.
A son of Conor and Siobhan McMenamin from the Golf Course Road in Letterkenny, he was determined to make an impression when given his opportunity.
"I was a sub in the first game, and came on with 15 minutes to go. We won that match 29-17.
"I started the second match and came off with eight or nine minutes to go. We won that day by 24-13.
"I got stuck in and was fairly sore after the matches, but I enjoyed them.
"There were no anthems or anything before the match, but we sang it in the dressing room before we went out.
"My parents came down to watch and it was some experience."
Rugby has been Conor's main sport since he first went down to taste the game as a 6-year-old at Letterkenny Community Centre.
His friends were all trying it out, so he was also intent on giving it a go, and he soon found that he was more than decent at rugby.
"I decided to try it out because my friends were all doing it, and I've kept going since. I was always one of the bigger boys so it suited me.
"I tried a bit of basketball too, but I wasn't too keen on the non-contact aspect of it.
"I was running into boys and hurting them, so I decided I'd be best off sticking to the rugby."
McMenamin has worked hard at his game since then, and puts in the effort both on the pitch and in the gym.
At just 16 years of age, he can bench-press 105kgs. However, he is quick to point out that it isn't all about strength, and tries to improve his speed and agility too.
After breaking into the International set-up this year, he is determined to pull on the green jersey once again next season.
"I'm underage again next year, so the aim is to make it back onto the Under 18 team, and possibly get a run for the Under 19 team as well.
"There's a lot of competition there, especially as you have lads coming through the big rugby schools, and they're training six days a week for it.
"There are very few players coming from a club background, but I've been very lucky with Letterkenny.
"I've had a lot of good coaching from Gordon Curley and Denis Faulkner."
It wasn't just on the International scene that McMenamin enjoyed success in April, as he also helped Letterkenny reach the Ulster Under 18 Cup Final, after a 64-7 semi-final win over Virginia RFC.
"We had a serious season with Letterkenny, beating Malone in the quarter-final and then Virginia in the semi.
"The win over Virginia was probably the best of the year, because everybody played well.
"We have a deadly team, and there are no real weak links in it. We have a lot of talent coming through."
Unfortunately, things didn't go quite to plan in the Ulster Carpets Under 18 final at Ravenhill in May, and Letterkenny were well beaten by Armagh.
However, McMenamin still has two years left at this age group, so there is time to make amends.
"We were just beaten by the better team on the day, but I've still got another two years left, and we have a lot of good lads still left over for next year, so we will give it another go."
McMenamin finished Transition Year during the week, but he doesn't have the time to get a job over the summer break.
His focus is very much on rugby, and he is intent on staying in the International circle, while he has aspirations of making the Ulster Academy in the future.
"I'm definitely looking to keep pushing forward.
"I'm starting into my summer programme which will take up four days in the week, and I'll be in the swimming pool or the sea in the other days to recover.
"You can't join the Academy until you're 18, which is two years away.
"Hopefully, if I keep doing things right, I won't be too far away by then."
Posted: 12:00 pm June 4, 2017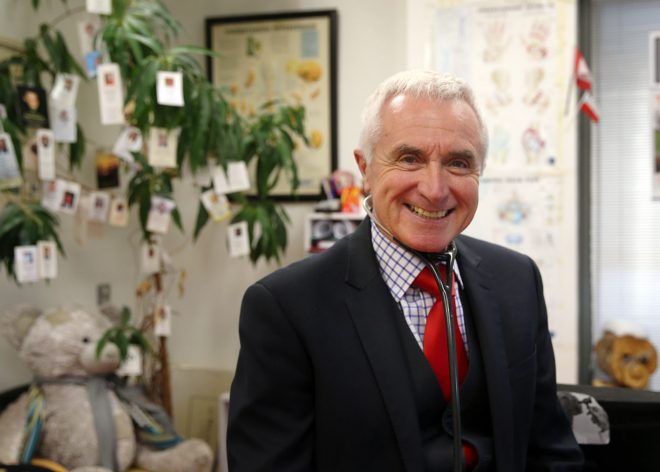 Letterkenny based GP Dr James McDaid said that an 'awful' lot of people across Donegal were using benzodiazepines.