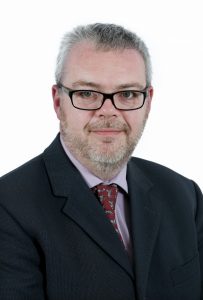 The Council of the Pharmaceutical Society of Ireland (PSI), the pharmacy regulator, has elected a new President, Mr Rory O'Donnell, and a new Vice-President, Ms. Nicola Cantwell. At its meeting, the Council also welcomed new members following their appointment by the Minister for Health.
Rory O'Donnell is a community pharmacist with a pharmacy in Gweedore, Co. Donegal. He qualified in pharmacy from Robert Gordon University, Aberdeen and holds a Science degree from Trinity College Dublin, as well as a diploma in Diabetes Management.
He has undertaken professional development with the Irish Management Institute and the Institute of Directors in Ireland. He served as President of the Irish Pharmacy Union from 2012-2014 and recently completed a term as President of the Pharmacy Benevolent Fund. He is currently Chairman of hmR Ireland. Rory was appointed to the PSI Council in 2015 and is the outgoing Vice-President.
Nicola Cantwell lectures on the Pharmacy Technician Course in IT Carlow and coordinates the work placement modules. She has worked in hospital pharmacy in St Colman's Rathdrum and veterinary pharmacy in Cooperative Animal Health, Tullow. She is now working as clinical governance pharmacist with Caredoc.
Minister Simon Harris has appointed seven new members to the Council of the PSI this week. The new appointments include pharmacists Michael Lyons, Marie Louisa Power, Sean Reilly and Veronica Treacy and public interest nominee Dr Ailis Quinlan. Hugo Bonar, a nominee of the Health Products Regulatory Authority, and pharmacist Nicola Cantwell have been re-appointed to serve a second consecutive term each.
All appointments are effective immediately, with the Council continuing in its governing capacity to oversee the functions of the PSI, as the pharmacy regulator, to assure public trust and confidence in pharmacy through its regulatory remit. Substantial projects in development include setting renewed focus for the PSI under its next Corporate Strategy for 2018-2020, and a review of the Pharmacist Code of Conduct, which establishes the ethical standards and expectations applicable to registered pharmacists in Ireland.
Posted: 5:18 pm June 26, 2017