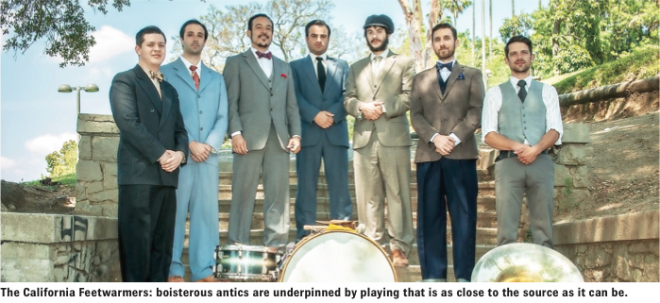 Earagail Arts Festival is a 20- day celebration of music, theatre, visual arts, film, literature, circus, comedy and dance. Now in its 29th year, the festival runs from Tuesday, 4th – Sunday 23rd July and is one of the flagship Donegal events along the Wild Atlantic Way. This year's programme has something for everyone, from family and outdoor events to theatre, workshops and music from all corners of the world.
KÍLA & BASORK
Since the late 1980s, Kíla have been heralded as one of Ireland's most innovative and exciting bands. Their unique sound has been ever evolving, rooted in tradition, yet inspired by a myriad of influences and ideas from all around the world. Often defined as contemporary Irish world music, Kíla fuse their own melodies, Irish (Gaeilge) lyrics, Irish folk instruments such as whistles, fiddles, Uilleann pipes and bodhrán with djembe, congas, drums, mandolins, brass and acoustic/electric/ bass guitars. Kíla's eight members come from the differing musical backgrounds of traditional, classical and rock.
Basork are a ten-piece fusion group influenced by Irish, European and Middle Eastern sounds. Brass, Strings and Woodwind combine with hints of jazz, funk and various traditional music with big melodies and lots of improvisation. Kíla & Basork takes place on Thursday, 13th July in McGrory's Culdaff and on Friday 14th July at 8pm in Regional Cultural Centre, Letterkenny. Admission €15/€12. Tickets can be booked online at www.eaf.ie, through the box office at An Grianán Theatre, Letterkenny or by calling +353 (0) 74 91 20777.
THE CALIFORNIA FEETWARMERS
The California Feetwarmers are renowned for an earthy depth of character that sets them apart from others who have followed that throwback path to New Orleans, circa 1920. Their boisterous on-stage antics are solidly underpinned by playing that is as close to the source as it can be. Based in Los Angeles, the band dusts down and re-works old classics, revisiting material from The Blue Ridge Playboys, Scott Joplin, The Memphis Jugband and Emile Grimshaw's Rag Pickers. The California Feetwarmers will perform two concerts; Friday 21st July at 8pm in Rathmullan House, Rathmullan and on Saturday 22nd July at 10pm in Teach Hiudai Beag, Gweedore.
The closing concert of the 2017 Donegal International Folk & Roots Weekend plays host to a specially commissioned supergroup of some of the world's most respected traditional musicians from across Ireland, the UK and further afield. Created with the support of the PRS Foundation Beyond Borders fund, the Atlantic Arc Orchestra features a stellar line-up of Dónal Lunny (Bouzouki & Musical Director), Pauline Scanlon (Vocals), Pádraig Rynne (Concertina), Jarlath Henderson (Uilleann Pipes, Whistles, Guitar, Vocals), Aidan O'Rourke (Fiddle), Sylvain Barou (Uilleann Pipes, Flutes), Ewen Vernal (Bass) and John Blease (Drums, Percussion).
In support of the Atlantic Arc Orchestra, witness some of the finest young musicians to emerge from the music programme of the Done- gal Music Education Partnership, including amongst others Amy Gillen (flute), Sarah Walsh (violin), Conor and Michael Murray (double bass/sax) and Amy Meehan (guitar/vocals). Atlantic Arc Orchestra & Donegal Young Maestros takes place on Sunday 16th July at 8pm in An Grianán Theatre, Letterkenny. Admission €20/€15 and tickets are available from www.eaf.ie or through the box office at An Grianán Theatre, Letterkenny.
EARAGAIL ARTS FESTIVAL PRESENTS KINDUR – THE ADVENTUROUS LIFE OF ICELANDIC SHEEP
Visual, emotional and immersive theatre. In Icelandic 'Kindur' means 'sheep' and this is a show dedicated to Iceland as seen through the eyes of an adventurous flock. Three dancers, who interpret three Icelandic sheep take us on a magical journey full of fantasy. Along the way the audience visit 'hidden' inhabitants of the remote wilderness: elves and trolls. Interactive family friendly entertainment at its best! Kindur takes place at An Grianán Theatre, Letterkenny and will run from Wednesday 12th July – Friday 14th July with two matinee shows at 12pm & 3pm daily. Suitable for children aged 5+ and the show lasts 50minutes. Admission is €7. Book tickets online at www.eaf.ie.
Other family highlights of this year's Earagail Arts Festival includes Kíla Kids, Guido Fanzini's Impossible Circus, The Merman's Tale and Wild Atlantic Weekend – Danny Carmo's Mathematical Mysteries, Circus Raj, Unsuitable and Ponydance's IniSHOWen.
For full details on the Earagail Arts programme and to book tickets visit www.eaf.ie. Earagail Arts Festival is funded by The Arts Council of Ireland, Fáilte Ireland and Donegal County Council.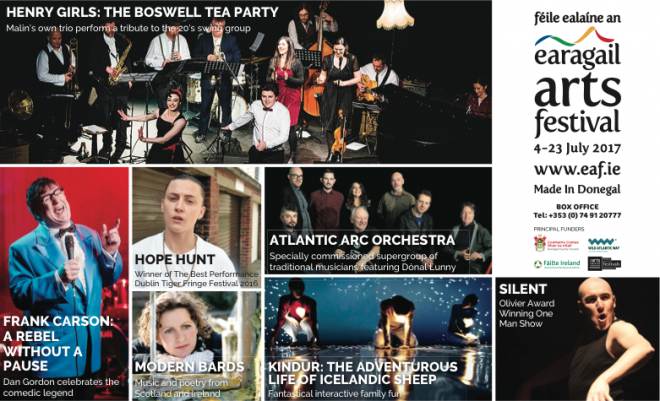 SPONSORED CONTENT BY: EARAGAIL ARTS FESTIVAL
Posted: 5:01 pm June 23, 2017
Ciara Hegarty – a current All-Star – believes that Donegal are capable of building up a head of steam...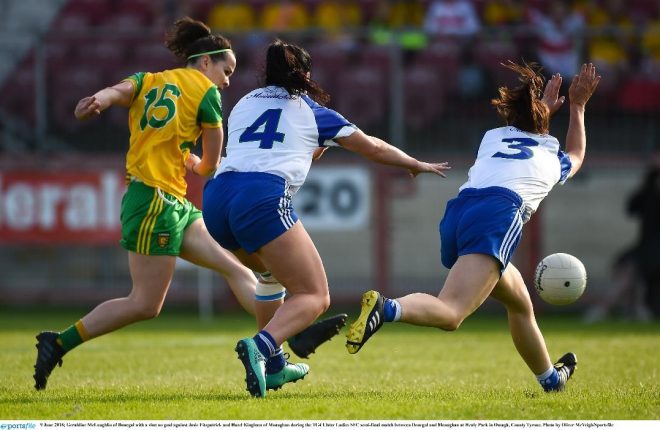 Geraldine McLaughlin is back to her devastating best and is gunning for Ulster SFC glory once more.