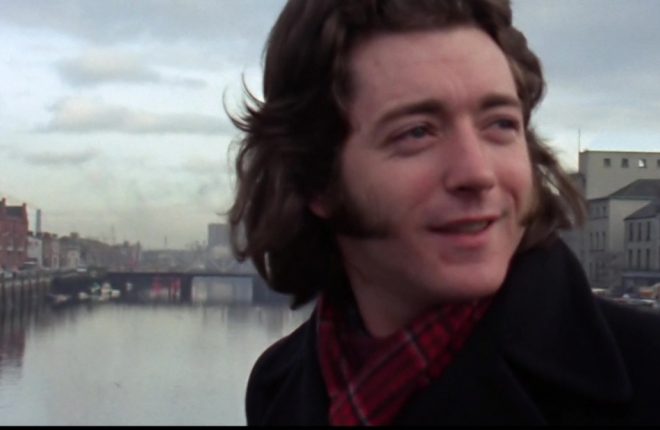 THE full line up for this year's Rory Gallagher Festival in Ballyshannon has just been confirmed and it is quite simply rock-tastic.
Running from June 1 until June 4, the festival has something for everyone – whether you are genuine fan of the great man or just someone looking for a few good tunes in the surrounds of beautiful Ballyshannon.
For more log on to www.rorygallagherfestival.com/festival-programme-20171.html today.
The itenerary is as follows:
THURSDAY – 1st JUNE 2017
2pm ~ Opening of Festival at the Ballyshannon Museum by Donal Gallagher
3pm ~ LIVE @ Rory Gallagher Statue
Peter Price & Gerry Quigley
4pm ~ Open Air Concert @ Rory Gallagher Place
In Your Town (Ire) & Aiden Pryor Band (UK)
6pm ~ Wild Atlantic Way Gig @ Rory Gallagher Statue ~ Deuce (Ireland)
7pm ~ Remembering Rory at Rockpalast – at The Rory Gallagher Theatre
40th Anniversary of Rockpalast Nacht – Screening of "Rory Gallagher –
Rockpalast Night" – Followed by Panel Discussion with Donal Gallagher
& Special Guests – Adm. €5 – Tickets available at the Entrance on the night only
THURSDAY NIGHT – PUB GIGS
10pm ~ SEAMIE O'DOWD at the Market House Pub
10pm ~ TONY DOWLER BAND (UK) at Sean Og's Pub
10pm ~ LAUNDROMAT (Holland) at Owen Roe's Bar
10pm ~ PETER PRICE at Melly's Bar
10pm ~ MARK BLACK & DECLAN McCLAFFERTY at Dicey Reilly's Bar
10pm ~ BLACK DIAMOND at Max Bar
FRIDAY – 2nd JUNE 2017
12 noon ~ For Rory at the Rock Hospital
Barry Barnes (Sinnerboy) & Dave McHugh
2pm ~ LIVE @ Rory Gallagher Statue
Johnny Gallagher (Boxtie Band) & Friends
3pm ~ Open Air Concert at Rory Gallagher Place ~ "Let's go to work"
SEAMIE O'DOWD BAND
& SINNERBOY
& GERRY QUIGLEY'S SHINKICKERS
5pm ~ Wild Atlantic Way Gig @ Rory Gallagher Statue
– WOODEN PAUL (Holland)
5pm ~ Acoustic Blues Session – Peter Price at Sean Og's Pub
5pm ~ Blues Guitar Session – Mark Black at Dicey Reilly's Bar
FESTIVAL BIG TOP – Friday Night – Gates Open at 7pm
PAT McMANUS BAND (ex. Mama's Boy's)
TASTE OF RORY (John Wilson & Richie McCracken)
KING KING (Scotland)
BLACKBIRD & CROW (Ireland)
Stage Times
7.45pm ~ Blackbird & Crow
8.45pm ~ Taste of Rory
10.15pm ~ King King
12.15am ~ Pat McManus Band
Adm €25 euro – Click for Advanced Tickets at €20
http://www.rorygallagherfestival.com/tickets.html
Tickets available at the Festival Ticket Office or at 7pm at the Festival Big Top Entrance
FRIDAY NIGHT – PUB GIGS
11pm ~ FRESH EVIDENCE (Ireland) at the Lantern Bar
11pm ~ DAVE McHUGH BAND at Owen Roe's Bar
11pm ~ TONY DOWLER'S HELLHOUND'S at The Limit
11pm ~ LAUNDROMAT (Holland) at Max Bar
11pm ~ DEUCE (Dublin) at The Rushy Glen
11pm ~ AIDEN PRYOR BAND (UK) at Sean Og's Pub
11pm ~ JACQUES DE LADDE (UK) at Market House
11pm ~ ODDSOCKS at The Bridgend Bar
11pm ~ OPTICAL ILLUSION at Dicey Reilly's Bar
PLEASE NOTE – ALL OPEN AIR CONCERTS & PUB GIGS – ARE FREE OF CHARGE
SATURDAY – 3rd JUNE 2017
12 noon ~ LIVE @ Rory Gallagher Statue
Georgie Gorman & Friends
12.30pm ~ Guitar Session at Owen Roe's Bar with Barry Barnes (Sinnerboy)
2pm ~ Blues Session with Jack McHale at Dicey Reilly's Bar
2pm ~ GALA OPEN AIR CONCERT at Rory Gallagher Place
DAVE McHUGH BAND (Ireland)
& WOODEN PAUL (Holland)
& MISSISSIPPI SHEIKS (Ireland)
2pm ~ LIVE @ Rory Gallagher Statue
Blackbird & Crow – "Stompin' Rhythm & Blues"
3pm ~ Guitar Session with Peter Price (UK) at Market House Bar
3pm ~ Oddsocks at The Bridgend Bar
5pm ~ Wild Atlantic Way Gig @ Rory Gallagher Statue –
CORK BAND (Istanbul) & DOM MARTIN (Belfast)
5pm ~ The G-Men at Sean Og's Pub ~ Georgie Gorman & Francie Lenehan
5pm ~ Mark Black & Declan McClafferty at Dicey Reilly's Bar
7pm ~ The Bluesman ~ Peter Price at The Bridgend Bar
7pm ~ Rory Gallagher Place – "Rory's Homestead"
TONY DOWLER'S HELLHOUNDS (UK)
& STORMBRINGER (Ireland)
FESTIVAL BIG TOP – Saturday Night – Gates Open at 7pm
TEN YEARS AFTER
BERNIE MARSDEN BAND (ex. Whitesnake)
IN YOUR TOWN (IRE)
SEAMIE O'DOWD (IRE)
Stage Times
7.45pm ~ Seamie O'Dowd
8.45pm ~ In Your Town
10.15pm ~ Ten Years After
12.15am ~ Bernie Marsden Band
Adm €25 euro – Click Here for Advanced Tickets at €20
http://www.rorygallagherfestival.com/tickets—big-top-2017.html
Tickets available at the Festival Ticket Office or at 7pm at the Festival Big Top Entrance
SATURDAY NIGHT – PUB GIGS
11pm ~ AIDEN PRYOR BAND (UK) at Owen Roe's Bar
11pm ~ THE MISSISSIPPI SHEIKS (Ire) at Market House Pub
11pm ~ LAUNDROMAT (Holland) at Sean Og's
11pm ~ SINNERBOY (UK) at The Limit
11pm ~ GERRY QUIGLEY'S SHINKICKERS at the Lantern Bar
11pm ~ FRESH EVIDENCE at Dicey Reilly's
11pm ~ DEUCE (Ireland) at The Bridgend Bar
11pm ~ JACQUES DE LADDE (UK) at The Rushy Glen
11pm ~ BLACKBIRD & CROW at Melly's Pub
11pm ~ THE BIG ROCK BAND at Max Bar
PLEASE NOTE – ALL OPEN AIR CONCERTS & PUB GIGS – ARE FREE OF CHARGE
SUNDAY – 4th JUNE 2017
12 noon ~ LIVE @ The Gables
PAT McMANUS BAND (ex. Mama's Boy's)
& THE SHAMS (USA & Ireland)
12 noon ~ Guitar Session at the Bridgend Bar
with Barry Barnes (Sinnerboy)
12.30pm ~ A Tribute to Rory at Owen Roe's Bar
with Dave McHugh & Danny Vlaspoel
2pm ~ Mark Black & Declan McClafferty
at Dicey Reilly's Bar
3pm ~ GALA OPEN AIR CONCERT at Rory Gallagher Place
ERIC BELL BAND (ex. Thin Lizzy)
& LAUNDROMAT (Holland)
3pm ~ LIVE @ Rory Gallagher Statue
Seamie O'Dowd & Georgie Gorman
5pm ~ Wild Atlantic Way Gig @ Rory Gallagher Statue
FRESH EVIDENCE (Ireland) & DOM MARTIN (Belfast)
5pm ~ Optical Illusion at Dicey Reilly's Bar
6pm ~ The G-Men at Sean Og's Pub ~ Georgie Gorman & Francie Lenehan
7pm ~ Rory Gallagher Place – "Roarin' for Rory Gig"
DAVE McHUGH BAND & SINNERBOY
FESTIVAL BIG TOP – Sunday Night – Gates Open at 7pm
BAND OF FRIENDS
JOHNNY GALLAGHER & BOXTIE (Ire)
JACKIE McAULEY BAND (ex. Them)
STORMBRINGER (Ire)
Stage Times
7.45pm ~ Stormbringer
8.45pm ~ Jackie McAuley Band
10.15pm ~ Band of Friends
12.15am ~ Johnny Gallagher & Boxtie
Adm €25 euro – Click Here for Advanced Tickets at €20
http://www.rorygallagherfestival.com/tickets.html
Tickets available at the Festival Ticket Office or at 7pm at the Festival Big Top Entrance
SUNDAY NIGHT – PUB GIGS
11pm ~ AIDEN PRYOR BAND at the Market House
11pm ~ THE MISSISSIPI SHEIKS at Bridgend Bar
11pm ~ TONY DOWLER'S HELLHOUND'S at Owen Roe's Bar
11pm ~ GERRY QUIGLEY'S SHINKICKERS at Sean Og's
11pm ~ PETER PRICE at Melly's Pub
11pm ~ DEUCE at The Limit Pub
11pm ~ CORK BAND (Istanbul) at the Lantern Bar
11pm ~ LAUNDROMAT at the Rushy Glen
11pm ~ FRESH EVIDENCE at Max Bar
MORE PUB GIGS TO BE ADDED
*** Programme can be Subject to Change ***
Posted: 4:47 pm May 23, 2017