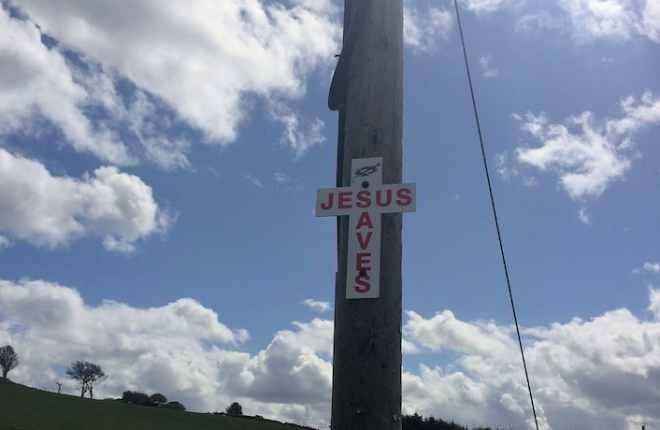 DONEGAL County Council could be on a collision course with churchgoers after vowing to remove religious symbols as part of a crackdown on illegal advertising.
Dozens of small wooden crosses bearing the words 'Jesus Saves' have turned up on lampposts and telegraph poles throughout the county in recent days.
The signs give no indication as to who is responsible for putting them up but the message does look set to be short-lived.
As part of a campaign to clear the county of illegal advertising signs and hoardings, Donegal County Council has signalled its intention to remove the crosses.
The local authority announced last week that ahead of the tourist season it was embarking on a drive to remove all illegal advertisements along public roads.
A council spokesperson said the plan was to target small advertisement signs normally tied or nailed to existing signs or poles, as well as sandwich board advertisement signs, large billboard signs, signs mounted on trailers and vehicles being advertised for sale at roadsides.
They also confirmed this week that the 'Jesus Saves' signs are to be removed as part of the clear out.
A council spokesperson said, "If this sign does not have the appropriate licence or planning permission, then it would be considered an illegal sign and will be targeted by the council in our campaign to deal with illegal signs.
"Again we would urge owners to remove their own signs which do not have the necessary licence/planning permission as soon as possible. The council will be taking down these signs from early June," they added.
Similar symbols – plain white crosses with 'Jesus Saves' in red lettering and a picture of a crown of thorns and a single nail – have also been reported in other counties, both north and south of the border.
But when contacted by the Donegal News, three churches said they were nothing to do with them.
The mainstream Catholic Church, the Church of Ireland and the Letterkenny Christian Fellowship all distanced themselves.
But former Inishowen priest, Fr Michael Canny, said that anyone putting up signs, religious or otherwise, should comply with legislation.
"I have no knowledge where they have emanated from and it is nothing to do with the Catholic Church.
"But anyone putting up anything should comply with the law of the jurisdiction they are in," Fr Canny added.
Posted: 5:35 pm May 24, 2017