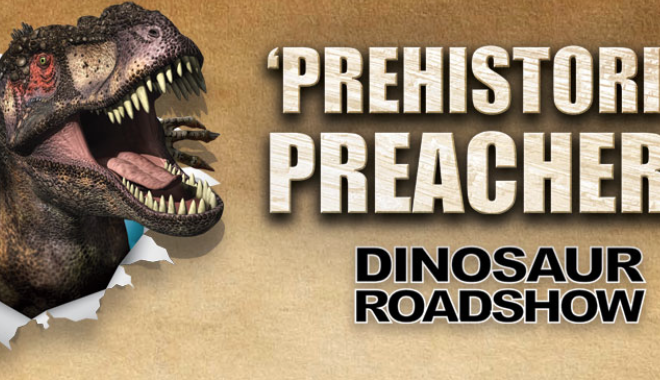 A creationist organisation with an event that teaches children how humans and dinosaurs once existed on earth together will be in Letterkenny this weekend.
The 'Prehistoric Preachers Dinosaur Roadshow' is hosted by Creation Ministries, an organisation that preaches the belief that the world is only 6,000 years old.
The fundamentalist Christian group – which describes Charles Darwin's findings on evolution as an illusion – has just completed a tour of Northern Ireland and begins a string of dates across the Republic this Saturday, beginning in Letterkenny's Trinity Hall.
On its website, Creation Ministries states, "In today's secularised culture, dinosaurs are often spoken of as monsters from 'prehistory'.
"However the Bible doesn't speak of eras of time, millions of years long, before humankind existed – there never was a pre-history.
"Even so, everyone is familiar with the idea of prehistoric monsters roaming the earth in the so-called Jurassic and Cretaceous periods. Dinosaurs, then, provide a wonderful opportunity to teach the true history of the world to young and old alike. That's why we call them 'Prehistoric' Preachers."
As well as a chance to learn the "true history of the world", children are also encouraged to meet life-size replicas of dinosaurs and take home an "educational free gift".
Creation Ministries say they are confident this weekend's presentation will "bring the subject of dinosaurs and the Bible alive in a memorable way" and that five different speakers will explain their beliefs at talks in Donegal, Galway, Limerick, Roscommon and Cork.
However Atheist Ireland's National Executive, John Hamill, told the Donegal News that the "whacky" teachings of creationist groups could be potentially "harmful" to young people.
Mr Hamill said, "It is indoctrination rather than discussion and the difference is that indoctrination is giving people uncritical information. By uncritical I mean giving young people one piece of information and telling them that it is the truth. I believe in freedom of expression and if someone wants to say the world is flat or the world is 6,000 years old, then they are entitled to do that. But that information should be presented critically and if someone is going to explain their reasons why the earth is flat, then where is the scientist to say why they believe it is spherical?"
Mr Hamill added that groups like the Creation Ministries deserved to be challenged on their views, particularly if they were targeting children.
"If children are involved, then the information should be presented critically and in a way that could be good educationally. But I would be opposed to indoctrination and that is the presentation of these ideas in an uncritical way, for example saying 'Here is the truth, but don't ask me why it's the truth'."
Posted: 2:00 pm May 12, 2017