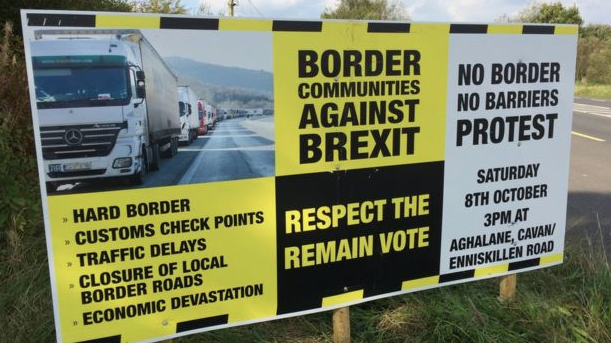 TOWNS closest to the Strabane/Lifford border need to be in a position to grasp economic opportunities thrown up as a result of businesses leaving the North because of Brexit, a Donegal councillor has said.
Cllr Paddy McGowan was speaking at the recent launch of the draft County Donegal Development Plan for 2018-2024 which sets out policies on issues such as planning, the economy and the environment.
He said that companies considering relocating may not necessarily want to set up shop in towns like Letterkenny. And for those wishing to maintain a close proximity to the border in towns like Lifford and Castlefinn, the mechanisms and facilities needed to be in place for them.
For decades and right up until the 1990s, the border area was a magnet for big firms.
At one time thousands of people were employed by manufacturers such as the Donegal Shirt Factory and Fruit of the Loom and just a few miles away in Strabane through companies such as Adria, Porters and Herdman's.
Following the collapse of the textile industry though, the majority of clothing firms shut down and shifted their operations overseas.
But uncertainties created by Brexit have made Donegal an interesting prospect once again for many well-established names who still have a presence and who are still operating successfully in Northern Ireland.
And should they decide to make the move, efforts should be made to keep close to border towns like Lifford and Castlefinn, Paddy McGowan said.
"That whole border corridor – from Ballybofey, Stranorlar, The Cross, Killygordon, Castlefinn and over to Lifford – traditionally those areas had all the factories in the county and now God forbid if a manufacturer came along, they would be chased from pillar to post and they have to move away from the border," Cllr McGowan said.
"And what I would like to see included under economic development is that within at least a mile of each of these settlements, there is an opportunity for anyone coming out of Northern Ireland and who is saying 'I don't want to go to Bridgend and I don't want to go to Letterkenny, I would like to stay in Lifford or Castlefinn'.
"What I would like under policy is that in this border corridor there would be an opportunity for people coming from Omagh or Castlederg and who want to Brexit-proof themselves, they can do it there.
"Obviously the normal constraints will still be there, you can't just open anywhere because you have to be near roads and so on, but that will come with planning anyway," Cllr McGowan added.
Posted: 7:00 pm May 12, 2017