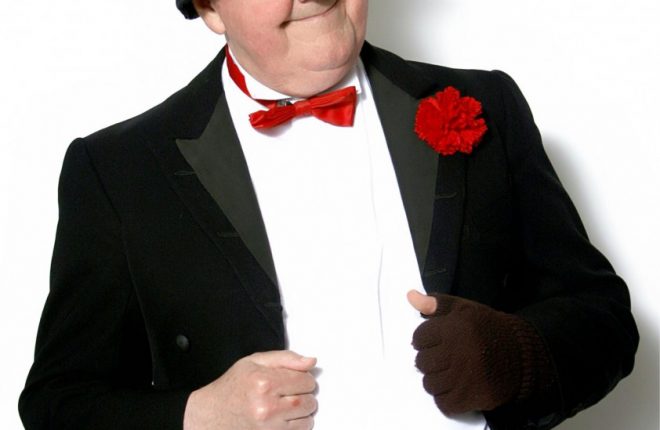 THERE might be a bit more snow on the roof but there is still no mistaking Jimmy Cricket.
With his battered hat, tail coat and wellies marked 'L' and 'R', Jimmy has been a permanent fixture on the Irish and UK comedy circuit for almost 50 years.
Tonight (Saturday) Jimmy – born James Mulgrew – brings his gentle comedic show to Letterkenny's An Grianán Theatre.
While comedy itself has changed massively from the 1970s, Jimmy Cricket is one of those acts who has refused to conform.Four or five decades ago variety comedy was king and performers like Morecambe and Wise, Roy Castle, Kenn Dodd and Bob Monkhouse were household names.
The nineties though heralded a sea change with the music hall humour of old side-lined in favour of the edgier styles of people like David Baddiel, Bill Bailey and Jack Dee.
Some though refused to go quietly into the night and Jimmy Cricket was one of those who kept his feet planted firmly in his wellies. While the world around him shifted, he kept on reading his famous 'Letters from Mammy'.
Today the jokes have been updated but the tone is as it ever was. And now aged 71, the Cookstown funnyman remains pleasant, upbeat and completely family friendly.
Ahead of tonight's gig, Jimmy reflected on a life on the comedy circuit and how he has managed to stay afloat when so many of his generation have tumbled into the annals of history.
"I loved comedy from a very early age. When television came along I really enjoyed watching people like Morecambe and Wise, Danny Kaye and Bob Hope. They were all big inspirations for me and I used to keep my teachers and my fellow pupils laughing with my antics," the comedian said.
While born in Cookstown, James Mulgrew spent almost all of his younger life living in Belfast. From an early age he decided that comedy was going to be his future and therefore school was not high on his agenda.
"I left school with two O-Levels, one for mugging and one for shoplifting," he laughed.
"My education was middle level but the dream was always comedy and I started from a young age doing imitations of people like Mick Jagger.
"It was suggested to me then that I do a mime act, copying bands like The Beatles and the Rolling Stones. So I started doing that in local dance halls and it worked well.
"I started to build up a rapport with my audiences and the natural progression from that was to throw in a fistful of gags."
Jimmy Mulgrew's comedy career was on the road and like so many of the funnymen and women who remain household names today, he headed for Butlins.
With his big Irish smile and natural likeability he was an immediate hit. But come the end of the holiday season, he had a decision to make.
"A big moment for me came at the end of the season. The park was about an hour from London and when I was asked where I was going, I said the West End.
"This was 1968 and I was advised that rather than head for London, I should head north where the club scene was booming. So instead of turning left, I turned right."
For eight years Jimmy honed his skills by telling jokes and entertaining in pubs and clubs across working class areas of northern England.
"I had to work hard and keep clean and it made you a better act. I knew I had to really go out there and grab my audience so it meant coming up with new ideas and new gimmicks to keep them interested. I did that for eight years and by the end I knew I had served my apprenticeship."
An aspect of those 'new gimmicks' was the clothing. The trademark wellies and the short trousers were there but it wasn't until the BBC made an approach that the now famous outfit was complete.
They were filming a show called 'The Good Old Days' and felt the whacky wellie-wearing Jimmy Cricket would be the perfect addition. The Beeb splashed £60 on a new outfit which included a bowler hat and a tail coat.
Out of that, Jimmy was offered his own television show, 'And There's More', named after his famous catchphrase.
The comedian admits that the 1980s were an "unbridled success" for him. But the 1990s were far from the drought they were for many acts of his era.
"The landscape changed unbelievably in the 1990s," he said.
"But I had to stay positive and thankfully I had my own radio show. I always worked on my act too because I realised that for people of my age, there was always going to be a market for what I do and for the constructed joke."
Faith and charity have had huge influences on Jimmy Cricket and his wife, May, who also has a singing role in his current show. Their son, Frankie, is a Catholic priest, and in 2015, Jimmy was awarded a papal knighthood in recognition of his charity work.
In these increasingly uncertain times, the world could be doing with another few Jimmy Crickets. And while he may be in his 70s, he remains firmly committed to uttering his famous "C'mere, there's more" for many more years.
In keeping with his old school style and working class roots, the comedian has always worked to keep his ticket prices to a minimum.
Tickets for this evening's show in An Grianan are just €10 with support from Donegal's rising star of comedy, Andy McGranaghan.
As well his unique joke telling style, Jimmy will be juggling, playing the saxaphone and reading, of course, his Letter from Mammy.
Posted: 2:00 pm April 29, 2017