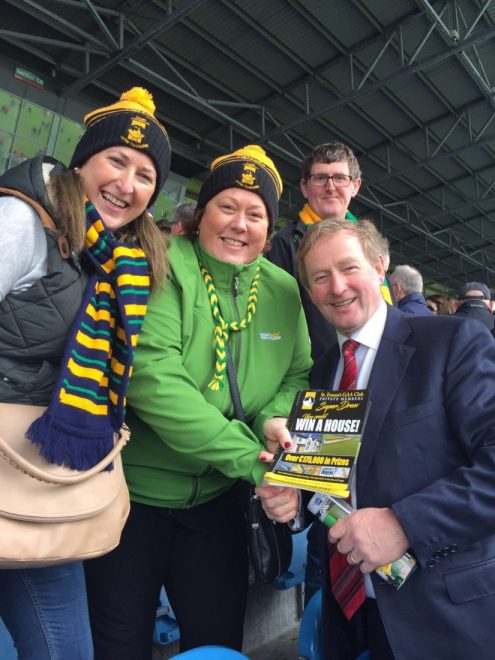 The Eunan's GAA Super House draw is entering its final week and organisers are advising people to get their tickets before they miss out on the chance to win a free house worth €155,000. The eagerly-anticipated draw takes place on Easter Sunday, 16th April in the Mount Errigal Hotel, Letterkenny and a huge turnout is expected.
Meanwhile a video created by St. Eunan's to promote the draw has been viewed over 23,000 times and shared around the world. Ciaran Haran is Draw Co-ordinator and he says the video has been viewed by people far and wide.
"The response from the local community and people with Donegal roots living throughout Ireland and around the world has been phenomenal. The video in particular seems to have struck a chord with people and, while it might be about St. Eunan's, it's also about highlighting the importance of a local GAA club to any community from the grassroots up. With just a few days until the draw, the final push is on and we need to get as many tickets sold as possible. This is our last call to all the people of Letterkenny and our friends in other GAA clubs across Donegal, Ulster and Ireland to please support our fundraising efforts."
St. Eunan's GAA club is the heart of this fundraising initiative and hopes to raise funds to further develop the facilities at O'Donnell Park and install a 4G Astroturf. The club was awarded a €80,000 grant by Donegal County Council, which it must now match to draw down the funds to develop the flood-lit Astroturf pitch, costing approximately €200,000.
An Taoiseach Enda Kenny and Minister for Diaspora, Joe McHugh are among those to show their support for the St. Eunan's Draw. Tickets cost €100 each and can be purchased from most St. Eunan's club members and at outlets throughout Letterkenny including: The Mount Errigal Hotel, Blake's Bar, The Brewery Bar, Brian McCormick's Sports, Macs Mace and Kernan's Petrol Stations. People can also purchase a ticket online by visiting www.bmcsports.ie.
The top prize is a three bedroom house in Letterkenny with other great prizes including a one week all-inclusive cruise to the Mediterranean, a weekend for two in Ashford Castle and Country Estate, a one year family membership to the Mount Errigal Leisure Centre, Home Heating Oil, a Love To Spa package for 4 people, a 50″ LED TV, a gift voucher for Evolve Menswear, €1,000 of Fuel from Top Oil and two weeks of sunshine in Portugal.
For more information on the St. Eunan's GAA Super House Draw 2017 contact Peter Curran on 086 385 2973 or Ciaran Haran on 087 967 4068. Details can also be found on the St Eunans GAA Super House Draw on Facebook page and Twitter.
Posted: 12:46 pm April 4, 2017