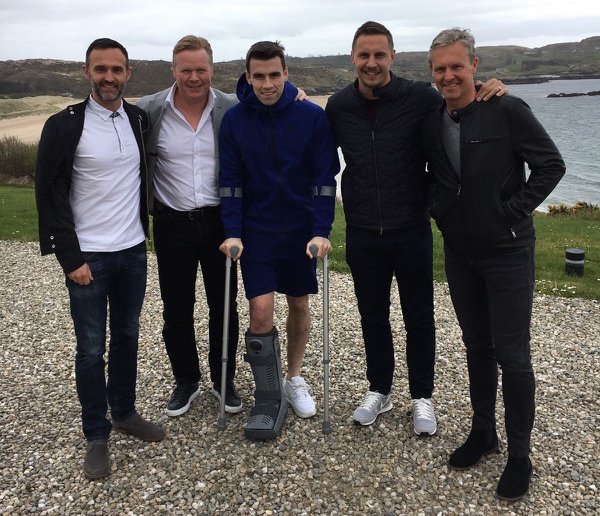 EVERTON manager Ronald Koeman and club captain Phil Jagielka travelled to Donegal earlier today to visit Seamus Coleman at his Killybegs home.
Coleman (28) suffered a double leg break during the Republic of Ireland's recent 0-0 World Cup qualifier draw with Wales at the Aviva Stadium.
Koeman and Jagielka were joined by fitness coach Jan Kluitenberg and the club's head of medical services Matt Connery on the flight into Donegal Airport, Carrickfinn.
Coleman underwent surgery after fracturing his right tibia and fibula and is not expected to return to action for at least nine months. He is expected to spend an other week at home in Killybegs before travelling back to Liverpool for treatment.
Koeman tweeted a picture of the meeting and told evertonfc.com: "We made the visit to show our support for Seamus, the support of his team-mates and the support he has from all Evertonians. Every player in these circumstances needs this level of support to recover well.
"Seamus is positive and he is feeling strong. He is really grateful for all of the messages he has received from Everton fans and from people all over the world.
"Before he comes back (to Everton) to start his rehabilitation, he will spend up to 10 more days at home in Killybegs before starting out on his recovery from the injury."
Jagielka said: "We had a really good chat with Seamus and it was great to see him in such good spirits. He was smiling and feeling positive, which is all we can ask for. He knows we are all here to help him along the way."
The travelling quartet, on a day off from training, took with them a selection of the get-well-soon cards that have been sent to USM Finch Farm by football fans from all across the world.
In addition to the dozens of letters to arrive by post, the Club has also received almost 2,000 emails of support from locations as far and wide as Finland, Egypt, Bangladesh, Colombia and New Zealand.
Posted: 4:37 pm April 11, 2017