AUDIBLE gasps of disbelief could be heard from both sets supporters gathered in the packed main stand midway through the second half of the Donegal v Tyrone game at MacCumhaill Park on Saturday night.
A loose ball was trickling towards the side-line and looked to be making its way towards a Tyrone defender but All-Star wing-back Ryan McHugh had no intention of allowing that to happen – at least not without a contest.
For a brief moment it looked as though the young Kilcar man was going to be unceremoniously dumped into the middle of the packed stand as he closed in on the ball only to switch on the after burners to emerge, unscathed, complete with ball in hand.
Looking up, he quickly delivered the perfect pass to team-mate Hugh McFadden in space and the Killybegs man did the rest – dissecting the uprights to further stretch Donegal's lead.
It was shortly after 8pm and on a night when Tyrone chose to flex their muscles in a bid to intimidate their opponents into submission it was refreshing to see to that skill, pace and technique can still get the better of brawn.
Speaking to this reporter as he emerged from the dressing room, Ryan's first question was about Arsenal and their 3-1 defeat at the hands of West Brom earlier that day.
Both of us are long suffering Gooners and I couldn't help but think if only they possessed some of the skill, pace, technique and bravery on show in MacCumhaill Park, Mr Wenger's men would be in a better place. Indeed, even a bit of brawn…
That said, it wasn't too long before the conversation switched to a result and performance which put Donegal alongside Tyrone and Dublin at the top of the Division One standings.
"Next up is Monaghan in Ballyshannon next Sunday and we're not looking beyond that game. The boys will probably go and have a look at them tomorrow (Sunday) and we'll take it from there," he said.
Reflecting back on the Tyrone game, Ryan said that he was delighted with the way the team responded to the late loss of Caolan Ward as well as the withdrawal of Frank McGlynn at half-time.
"I feel that we've a strong panel in Donegal at the moment but we'll need that if we are to make a challenge in the summer.
"Frank was a huge loss at half-time because I felt he had been exceptional early on, especially taking the ball out of defence, while Caolan has been one of our best players in the league to far," he said.
"But that's football and you're going to pick up injuries and wee knocks here and there. It's how you react to those set-backs and thankfully Donegal reacted well out there today," he added.
Donegal made light of the dreadful conditions to beat Tyrone by double scores with Ryan's brace of points helping them along the way.
"One man can't carry a team any more so you need men to step up to the plate and I think Ciaran Thompson has really done that this year so far. We also got scores from Eoin, Michael and Hugh and even one from Paddy (McGrath)," he smiled.
The game also allowed Donegal the opportunity to give both Cian Mulligan (Gaoth Dobhair) and Brendan McCole (St Nauls) their league debuts.
"Cian did very well when he came on. He picked up a lot of breaks for us and kicked a great score. That's what you need. Men coming off the bench to boost the team and thankfully we have that in Donegal but we need to keep it going," he said.
What about Tyrone?
"They are probably a wee bit disappointed in themselves and we know that if we're lucky we'll probably met them in the Championship when they'll be a different Tyrone team. They're one of the top teams in the country but we were well up for the game tonight," he said.
Trailing 9-4 at the short whistle, Tyrone did get the first score of the second half but they would only add one further point as Donegal eased their way to victory.
"To be fair to Tyrone they came out at the start of the second half and really got stuck into us and scored the first point but I thought that we showed good character and determination.
"It was a good win and should give the U21 lads a bit of confidence ahead of their game on Wednesday night," he said.
Posted: 8:31 am March 20, 2017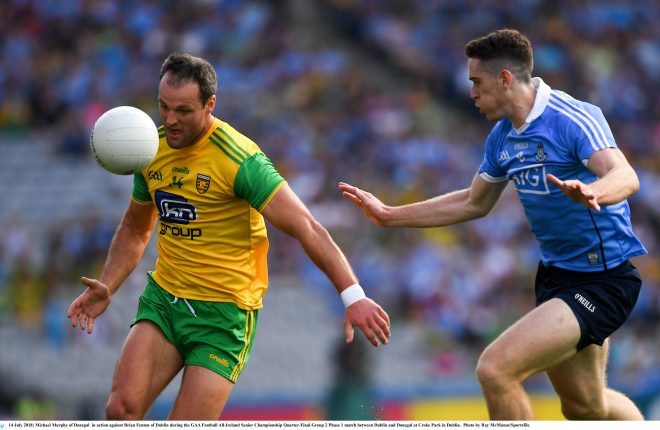 Dublin too strong in Croker.