TRANSITION is rarely seamless as Donegal found out to their peril last Sunday.
With eight established members of the panel no longer available, it was always going to be a difficult task at home to Kerry.
Donegal manager Rory Gallagher had warned the public to expect ups and downs this year, and for 50 minutes of last week's game, there certainly wasn't much to tick in the positive category.
Kerry looked powerful and dominant, while Donegal appeared a pale shadow of their former selves.
There was no Rory Kavanagh to break ball in the middle, or Christy Toye to go on a long powerful burst, or Colm McFadden to swing over off his trusted left foot.
Even the old reliables that have stayed put like Frank McGlynn and Paddy McGrath – who seldom struggle – found the going tough.
There were glimpses of optimism to be found in the final twenty minutes, but many spectators had already headed for the exit gates by that stage, while some of Kerry's star names were given a rest in the closing exchanges with a good afternoon's work behind them.
Michael Murphy said after the match that his team were given a wake-up call at half-time, and it was certainly a reality check for all concerned.
Donegal may be in the same division as Kerry, but physically they are not in the same league at the moment.
The rebuilding process will take time, and while relegation to Division 2 wouldn't be a disaster, Gallagher and his team say they want to continue to compete with the country's elite.
With defeat already to Kerry, and tough battles with Dublin and Tyrone to come, if Donegal are to retain their Division 1 status, then this Sunday's match with Roscommon is an important one.
To avoid the drop, Donegal will need to stay above Roscommon, and both teams will surely have targeted this encounter as one in which they have to collect two points.
Donegal supporters will be wary of Roscommon particularly after the defeat that they suffered at the hands of the Connacht side in Letterkenny last year.
On that occasion, the Rossies were fast and vibrant and appeared ready to step up to the next level.
However, they flattered to deceive in the championship, and things have gone off track since.
Fergal O'Donnell has stepped away leaving former RTE panellist Kevin McStay as the sole man in charge, while a few key players have also left the panel.
Of those who started in that triumph at O'Donnell Park in 2016, only seven lined up for Amhran na bhFiann in Healy Park last Sunday as the Rossies lost to Tyrone.
It appears that all is not well within their camp, and Donegal need to try and take advantage of that and put pressure on them early on.
Roscommon were never likely to defeat Tyrone, but they did pose questions of them and created a few goal chances.
What will give them hope was how open Donegal were at the back against Kerry. Granted, when one side has such a control of midfield and a monopoly on possession, the opposition's defence are going to be under pressure.
Yet, Donegal's defence were porous, with Kerry breaking through regularly, and if they had wanted to (or needed to), the Kingdom could have hit the net on another three or four occasions.
However, Roscommon are not Kerry. In the likes of Ciaran Murtagh and Enda Smith, they have talented forwards, but not ones that would give you sleepless nights like Paul Geaney or James O'Donoghue.
And they certainly do not have a David Moran. Midfield has been a troublesome sector for Roscommon in recent times, and Donegal may think that they can compete there this week.
The likelihood is that Michael Murphy will also drift out around the middle, like he did in the second half last Sunday against Kerry.
As always with Murphy, there will be the age-old debate about where he is more effective, but there's no point in having him at full-forward if you can't supply him with the ball.
Donegal's tally of 1-17 last week was high and it was promising that they had nine different scorers.
There has been too much of a reliance on three or four players in recent times, and it's worth remembering that some of those men have had very busy schedules over the last couple of weeks.
For example, Ryan McHugh, Patrick McBrearty, and Eoin McHugh all played two Sigerson Cup matches (one that went to extra-time), and a senior intercounty match over the last ten days.
That is sure to be draining, and while they are not the only young players in that predicament, they are three integral members of the Donegal set-up and they need others to step up and lessen the burden.
On paper, the clash with Roscommon does appear to be one of the more winnable games this spring, but the fact that it is away does pose problems.
Dr Hyde Park is re-opening following development work, and the home side will be determined to get the right result in front of a big crowd.
It's also worth remembering that Donegal do not have a good record on the road in the league. In the last eight years they have only won away once in the top division, and while that was an emphatic victory over Down, that win does come with an asterisk.
The intervening 12 months has shown how poor the Mourne county are, and their scalp isn't exactly something to be roaring from the rooftops about.
However, Donegal will have to set their travel woes to one side this week and get a result, because if they fail to do so, they will be really up against it.
Six points may keep you up, but with All-Ireland champions Dublin on the horizon in the third round of league fixtures, the likelihood is that you would need to win three of your last four games to be in with a shout of surviving, and the chances of that aren't wonderful.
Sunday's game won't be a defining moment in their season, but it is the first real test of Gallagher's new team. If they want to remain in Division 1, it's a game that they simply must win.
Posted: 4:00 pm February 11, 2017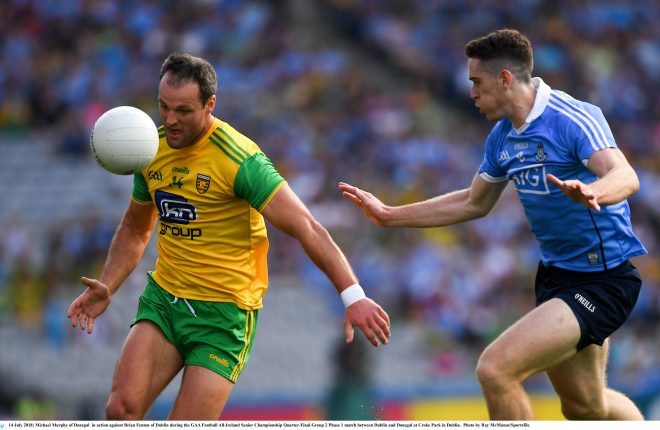 Dublin too strong in Croker.