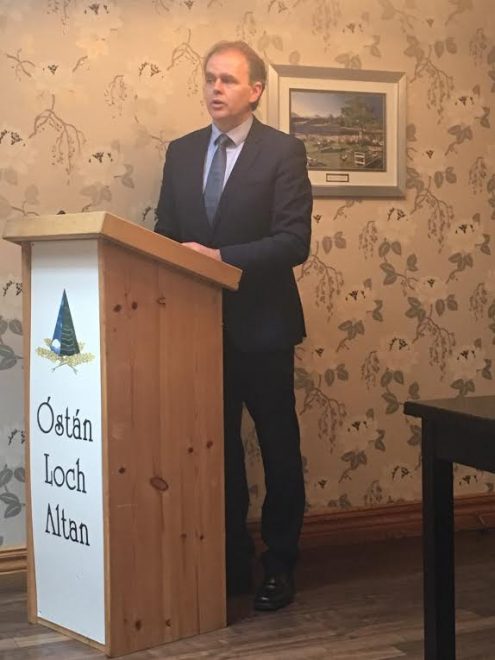 Minister of State Joe McHugh has announced a €3.8M water scheme in Gortahork which will deliver quality supplies to 5,000 people by the end of the year.
The Donegal TD cut the sod today on the new water treatment plant at Ardsbeg.
It is part of €6.3M in infrastructure contracts being signed off by Minister McHugh today with the formal signing for the Cockhill Bridge in Buncrana later today.
Speaking at Ostán Loch Altan today, Minister McHugh said: "This is just one of many projects that Irish Water is progressing across County Donegal.
"The Utility has committed to an investment of €73 million in the county's water infrastructure over the next four years which will directly benefit over 90,000 people.
"Working with Donegal County Council, Irish Water will deliver improved infrastructure that will resolve the serious deficiencies that exist.
"Covered by this investment will be works in Cashilard, Cresslough, Fintown, Glenties-Ardara, Greencastle, Owenteskna/Kilcar, Letterkenny, Milford, Pettigo, Portnoo-Narinand Rathmullan."
The Minister added: "A further €70 million is earmarked for addressing issues with County Donegal's wastewater infrastructure Included in this is an €18.4 million investment in the towns of Killybegs, Bundoran, Glencolumbkille and Convoy and as we know Killybegs and Bundoran are towns where untreated sewage is being discharged untreated into the sea."
Cllr Terence Slowey, Cathaoirleach of Donegal County Council, said today's announcement would "remove another issue from the Environment Protection List's 'to-do' list in Donegal."
The contract involves the construction of a new water treatment plant immediately adjacent to the current site. The new treatment plant will comprise a robust flocculation, coagulation and filtration process followed by disinfection with a design output of 1,800m3/day. The contract also includes a treated water storage reservoir at the treatment plant site, which will provide a much improved security of supply for the local residents.
Speaking at today's launch, David McLoone, Irish Water Asset Management said: "The Gortahork/Falcarragh scheme is supplied from Lough Lagha, an upland lake. However, the existing water treatment plant is not adequate to address the risks to water quality and the scheme is subsequently on the EPA's RAL.
"These works will ensure the people of North Donegal will benefit from robust water treatment facilities and a safe and secure water supply into the future."
Posted: 1:10 pm February 20, 2017