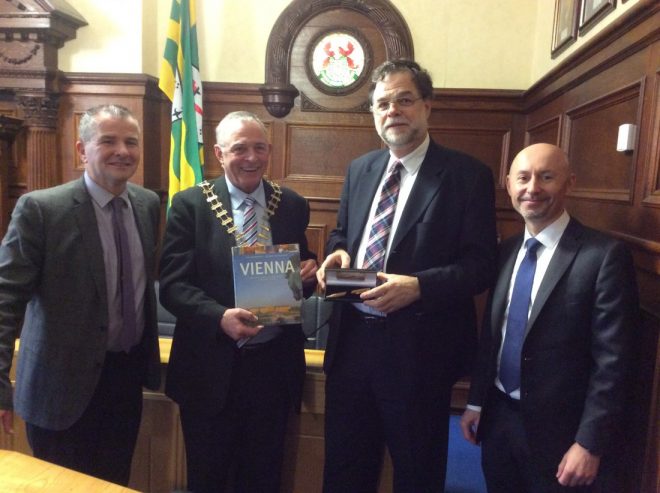 Cathaoirleach Cllr. Terence Slowey today welcomed the Ambassador of Austria, Dr. Thomas Nader to Co. Donegal when he paid a courtesy visit to the County House in Lifford.
Dr. Nader met with the Cathaoirleach and Liam Ward Director of Service with Donegal County Council and was accompanied on his visit by the Commercial Counsellor at the Austrian Embassy in Dublin Mr. Wilhelm Nest.
The Cathaoirleach was delighted that Dr. Nader and Mr. Nest took time out of their busy schedule to visit Donegal and indeed to meet with the Cathaoirleach at the County House in Lifford. The Cathaoirleach used the opportunity to showcase what Donegal has to offer as a great place to visit, to live in, to work in and to do business in.
This was not Dr. Nader's first visit to Donegal. He visited the county last summer when he spent two nights in Buncrana as part of a trip along the Wild Atlantic Way and during this visit he had the opportunity to visit Fort Dunree and enjoy some of Inishowen's spectacular scenery.
As one of the wealthiest countries in the world, the Austrian economic system can be characterized as a free market economy with a strong social focus. A member of the European Union, Austria is a highly developed industrialized country with an important service sector. The most important industries are food and luxury commodities, mechanical engineering and steel construction, chemicals, and vehicle manufacturing. Tourism is also an essential pillar of the Austrian economy and in 2015 there were approximately 26.7 million foreign visitors to Austria.
"During Dr. Nader and Mr. Nest's visit we had an opportunity to discuss trade and economic development opportunities in a number of key areas including tourism and food and we look forward to following up on this meeting with a view to establishing stronger linkages that will be of mutual benefit to both Donegal and Austria" said Cllr. Slowey.
The visit concluded with an exchange of gifts and Cathaoirleach Cllr. Terence Slowey presented Dr. Nader and Mr. Nest with handmade Donegal Pens while Dr. Nader presented the Cathaoirleach and Mr. Liam Ward with a book on Vienna.
Posted: 4:31 pm February 1, 2017