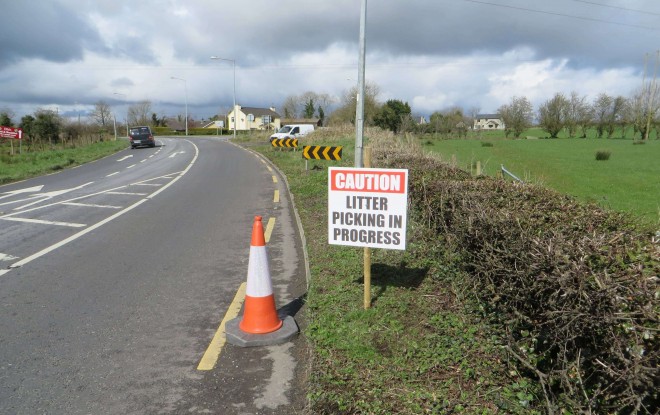 · Letterkenny in 35th spot in ranking of 40 towns and cities
· Dumping replacing litter as critical environmental issue
Letterkenny has lost its clean status and is now 'moderately littered', according to the final litter survey for 2016 by business group Irish Business Against Litter. The town finished in 35th position in the ranking of 40 towns and cities. The cleanest town will be announced at lunchtime today in the Merrion Hotel in Dublin.
The An Taisce report for Letterkenny stated:
"Both the Strabane and Sligo approach roads were heavily littered and brought down Letterkenny's grade. There were fewer top ranking sites in the town than in the previous survey (two) – the residential area of Ashlawn and Letterkenny Town Park. The Town Park was a fantastic site which has been very well respected and maintained. With a little extra care and attention some of the Grade B sites could get the top litter grade e.g. residential area of Beechwood Avenue / Beechwood Park, Letterkenny Retail Park and Port Road."
70% of the towns and cities surveyed by An Taisce on behalf of IBAL were found to be Clean to European Norms, compared to 85% two years ago. Litter levels rose by 4% over the period. While once again there were no litter blackspots, three urban areas were deemed to be seriously littered – Galvone in Limerick, Farranree in Cork and Dublin's North Inner City.
"The poor showing by our cities generally goes some way to explaining the overall increase in litter levels," says Conor Horgan of IBAL. "Last year all our major cities other than Dublin were clean, this time round the majority are littered."
The IBAL report again illustrates how dumping is at the heart of Ireland's litter problem. "The problem is becoming less about cleaning up after kids have dropped sweet papers on the main street," says Horgan. "It's about people deliberately and covertly evading bin charges by illegally disposing of their rubbish on wasteland or derelict sites, which then become magnets for all sorts of litter. Dumping needs to be higher on the political agenda, as it's an issue that really matters to people, and to our economy."
"The good news is that we are nowhere near as littered a nation as we were fifteen years ago, when only two towns were Clean to European Norms. However, we have seen some worrying slippage across both cities and towns. The restructuring of local government and the abolition of town councils may be partly to blame outside of our cities.
"With record numbers of tourists flocking to Ireland, the increasing level of litter is a trend we need to arrest quickly, as it will have a direct and immediate impact on the visitor experience. O'Connell St, Grafton St and Stephens Green in Dublin, for example, have all slipped to moderately littered."
There was a noticeable increase in the prevalence of sweet wrappers, plastic bottles and cans across all the sites surveyed, with a slight fall off in cigarette butts.
Posted: 11:09 am January 3, 2017