WITH Donald Trump elected president of the United States, and Britain voting for Brexit, along with a host of famous faces passing away, it's fair to say that the general public were glad to see the back of 2016.
However, for Glenswilly man Manus Kelly, it was a year that he will forever cherish, after he famously landed the Donegal International Rally.
Kelly worked his way up the leaderboard last June, and had only half a second to spare over Keith Cronin after a dramatic final stage on Fanad Head.
"Trump was maybe as big of a surprise as me winning Donegal," Kelly laughed this week, as he reminisced on a fantastic weekend when he conquered his home rally.
"It was a year of surprises. To go out in the Carlow Rally in the WRC and get first overall was a bit of a shock to myself.
"Going into Donegal, it was all about performing well and hopefully getting a podium finish.
"To win the rally was just outstanding. It was some year and I wouldn't mind another year like it. I hope 2017 is as good."
Kelly is a busy man. As well as his rallying, he is also rearing a young family, and owns two businesses in Letterkenny – Uptown Cafe and Tailored Facility Solutions.
Despite his hectic schedule, he has pencilled in a few weekends to get behind the wheel again.
He admits that it was only on the Sunday of last year's Donegal rally that he really got to grips with the Subaru S12B he hired, while the settling in time cost him in the Martin Howley Memorial Harvest Rally, despite a good showing.
However, Kelly is hoping that he will have his vehicle well tested by the time he heads for the start ramp next June.
"At the minute, we're still in negotiations, but it's looks very likely that we're going to compete in the National Rally Championships.
"Obviously I'll be going back to defend the title in Donegal and we'll be running number one on the road. That will be a great honour in one of the biggest rallied in Europe, let alone Ireland.
"The plan is to do four or five rounds of the National Championship, and then go into Donegal match fit, and as quick as possible.
"Last year we only had one rally in the car before Donegal, so to have four under our belts would leave us a lot more confident.
"Depending on how things go we'll finish up the National Championship and see how we get on."
Kelly had a few options for the coming year, but he has decided on giving his lot in the National Championships, and he still has his eyes on getting the better of some local rivals.
"I have a young family and I have a young company and all these things have to be considered.
"I sat down with Paul Crumlish, who manages everything for me and keeps me right, and we looked at the Tarmac Championship.
"It's looks like the Subaru S12 for us again, and the fact that you can't qualify for points in the Tarmac, makes it that much more time consuming than the National Rally Championship,
"We decided we would just see out the National this year and see how it goes, and hopefully we'll be there competing against Declan (Boyle), Garry (Jennings), and Donagh (Kelly) again, and there will be a good bit of rivalry and battle going on there all year.
"I would still see myself as the underdog, but you would hope with the mileage done, then you should be knocking on the door.
One man who won't be by Kelly's side in 2017 is his navigator Donall Barrett, who has decided to vacate his seat.
The pair have enjoyed many great days as they chased glory in the Donegal National Rally, and then International, but Donall has decided to step away now.
Kelly has turned to a familiar face to take on the role as his co-driver.
"There's a line under it now. We have spoke about it in depth and I've tried to twist his arm on a few occasions, but look, I have to respect his decision.
"He has a young family as well and he's busy with work. He's in Dublin as well and there's a lot of travelling up and down involved for him.
"He's parked it for the meantime anyway. It's been a hell of a ten years and we still are on the phone two or three times a day having the craic.
"Gareth Doherty has come in and he sat with me back in the Twin Cam Corolla days, and he's no slouch.
"We got on great in the Harvest and I have no doubt that he will be able to step in without a problem."
It wasn't just in rallying that Kelly enjoyed a good 2016, in GAA he also managed the Glenswilly third team to glory in the inaugural Senior 'C' Championship, along with Sean Bonner.
That was another treasured triumph, but Kelly insists that he just doesn't have the time to manage the team again next year, although he believes that there are plenty of suitable replacements in the Glen.
It was a busy Christmas in the Kelly household, but Manus got his present as well, with his good wife giving him the go ahead to compete on the roads again this year.
"Young Conan was born in the second of January last year, and we thought that was us done and dusted, but we were lucky enough that little Bella came along in November. She's a great wee woman.
"That's five kids now along with Annie, Mandy, and Charlie. It's a busy house but everybody is healthy and that's the main thing.
"My wife Bernie is a busy woman at the minute, and I had to get the green light from her to do a bit of rallying in 2017.
"She's allowing me to do a few rounds anyway, and we're all looking forward to the year ahead."
Posted: 11:00 am January 15, 2017
Manus Kelly and Donall Barrett, who will start umber one on the road this morning in their Subaru WRC,...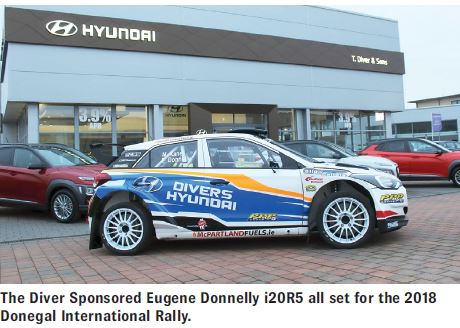 (FRI 8TH. – SAT. 16TH. JUNE) With the National Hyundai Open Weekend clashing with the Donegal International Rally ,...