WHEN Ryan McHugh was kicking ball around Towney as a teenager he would sometimes pretend that he was playing alongside some of the iconic figures of gaelic football.
His father, Martin, and older bother Mark would both get mentions as would players from other counties like Dublin's Bernard Brogan and Monaghan's star forward Conor McManus.
Last month, Ryan (22) got flashbacks to those long, sunny days in Kilcar except this time it was for real as he found himself playing alongside those same legends.
Named wing-back on the 2016 All-Star team, Ryan was one of three Donegal players among the star-studded 29-strong panel, representing the 2015 and 2016 All-Star winners, who travelled to the United Arab Emirates for the Opel All-Stars football tour.
Included in their number were both Brogan and McManus who picked up All-Stars for their performances in 2015.
"I got chatting to both Bernard and Conor during the All-Star trip. They were among my heroes. I sat beside Conor on the plane journey home. He was one of those players that I admired.
"At the All-Stars back in 2012, me and Eoin (McHugh) were there with Mark and we were only worried about getting our pictures taken with Bernard Brogan and all these top, top players and here I was a few years later playing with them. It was surreal," he laughed.
As well as joining an exclusive club, Ryan made it a real family affair when he picked up his All-Star last month. His father Martin McHugh was an All-Star winner in 1983 and 1992, and his older brother Mark won an award in 2012.
"It was a great achievement for the whole family. It was a proud day for me, dad and Mark and well as mum (Patrice) and Rachel," he said.
The All-Star capped a wonderful year for McHugh, his best yet in a Donegal jersey, but there's a nagging feeling that, overall, 2016 could have been much, much better.
While the final year Business student in Jordanstown accepts that it's been a good 12 months on the individual front, he stresses that the team is all important.
"At the start of the year we set out our targets – as a group of players and not from a personal point of view.
"I was very disappointed by the Tyrone game. We were four points up just after half time and we were in a healthy position but instead of pushing on and going five or six clear, we sat back. You can't defend like that in modern day football. I know you often learn more from defeats and, going forward, I really hope that we learn from the mistakes of last summer," he said.
With the Sigerson Cup on the horizon, together with a series of games in the McKenna Cup wearing the UUJ jersey – including one against Donegal – it's a busy time for the young Kilcar man but he wouldn't want it any other way.
"Sure we had a great break during the trip to the UAE. It was thirty degrees in the shade and we got to see all the sights. If I'm kept busy playing football at this time of year it's not a bad complaint really as it means that both the club and college football has gone okay," he said.
UUJ have already won the Ryan Cup this year but it's the Sigerson Cup which remains the holy grail of Colleges football. He's joined in Belfast by Kilcar and Donegal team mate Patrick McBrearty, while his father, Martin, is team manager.
"Dad has managed me with Sligo (IT) and Kilcar so I'm well used to him at this stage. He's not too bad," he laughed.
Early in the new year, Ryan is expected to line out against Donegal in the McKenna Cup.
"I'm looking forward to playing Donegal. It's something different and won't be easy. I go to war with these boys on every other day but whenever I put on the jersey – be it Donegal, Kilcar or UUJ, I'll give of my best. It's no different to the Tyrone or Cavan boys in the team. We have a job to do and we have to be professional," he said.
Ryan is one of the few players who have made the successful transition straight from minor football into the senior county set-up. Muff's Aidan McLaughlin, Jason McGee (Cloughaneely) and Enda McCormick (Termon) are among last year's Minors who have joined Rory Gallagher's set-up this year.
"It's not easily done but they're in the panel on merit and it's now up to them to push on and try to make their mark. Every year we need stiff competition within the squad and we're lucky enough to have men fighting for their places within the Donegal team. These young lads have already enjoyed a bit of success at Minor level, reaching an All-Ireland semi-final, and they'll be pushing us older men hard," he said.
But sure you're still a young fella – not even twenty-three years of age?
"I don't feel like it," he smiled.
Two players who have decided to call it quits are Eamon McGee and Colm McFadden and McHugh is hoping that there will be no more retirements ahead of the new season.
"From my own point of view, I feel that the two of them were well fit enough to give it another year but..," he sighed.
At a club level it was a good end to the year for Kilcar but, again, Ryan feels that they should have done much better.
"We're delighted to win the League but it's not the cup we set out to win. It's well documented at this stage how our Championship season ended and we live and learn. We've been building these past few years in Kilcar and it's important that we continue on that upward curve next year," he said.
There's no doubt that Ryan McHugh is already a hero to a whole raft of young gaels growing up but I wonder how many of them will go on to become his team-mates in the green and gold of Donegal over the next decade or so?
Only time will tell, but if you give or your best there's every real chance that you'll get the opportunity to play alongside your heroes. Just ask Ryan McHugh.
Posted: 5:00 pm December 30, 2016
Ciara Hegarty – a current All-Star – believes that Donegal are capable of building up a head of steam...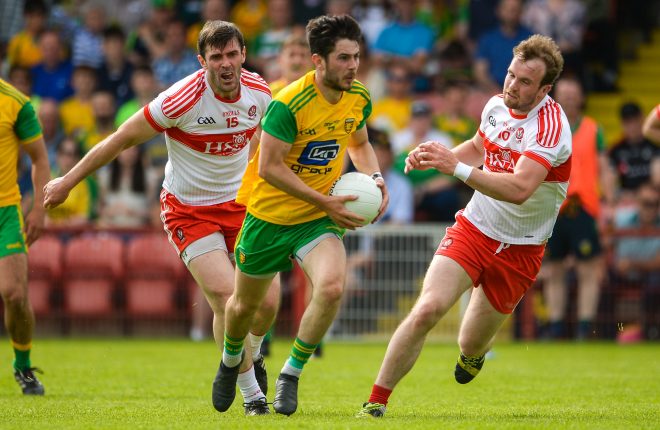 McHugh scored two points against Derry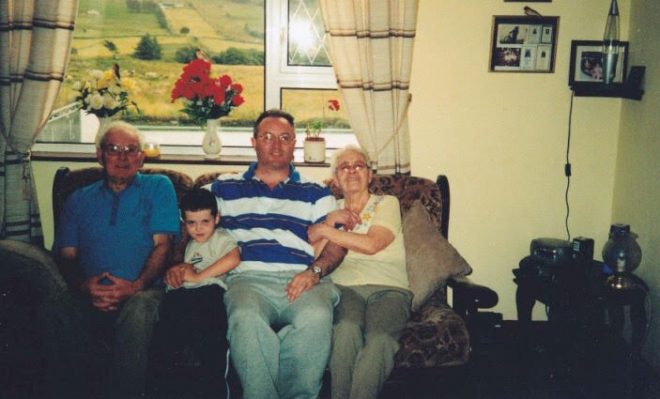 THE DEPARTMENT of Social Protection has issued an apology to the family of a Kilcar woman who they wrongly...