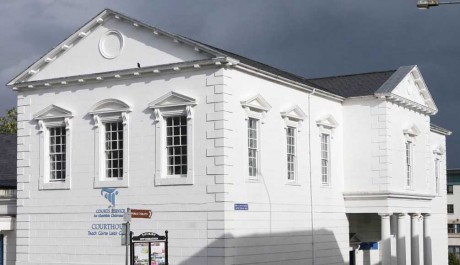 A man who once preached the love of God and religion before a judge was jailed when he admitted malicious criminal damage to contents of an altar in a Catholic church.
Donegal District Court heard that 66-year-old Gerrard O'Connor damaged €230 worth of property when staff was cleaning windows in the Sacred Heart Church, Mountcharles.
Inspector Dennis Joyce said O'Connor lifted two candlesticks from a shrine to Our Lady and smashed them on the ground. He damaged a church bell and lifted a crucifix and broke it and threw the contents of a Holy Water font down the aisle.
Inspector Joyce outlined a series of other offences, including drunkenness and breaches of the peace, to all of which O'Connor pleaded guilty. All the offences happened on dates between February 15 and November 3, 2016.
Defence solicitor Frank Dorrian told the court that despite the efforts of well-meaning people to help, O'Connor had a very acute addiction to alcohol. Judge Kevin Kilrane noted that O'Connor, with an address at St Mary's Park, Donegal town, had been before him on numerous previous occasions.
The judge said: "He has lectured on the love of God and matters of religion and yet he enters a Roman Catholic Church and carries out malicious damage."
Judge Kilrane noted that in one instance O'Connor committed a "nasty" offence by spitting at a Garda in the face.
He had lived in several locations, including Dublin, Northern Ireland, once with a woman described as his girl-friend, and in an old, derelict farm in North Donegal.
The judge added: "I can't have this kind of thing continuing."
He imposed sentences of 30 days for six offences, all to run concurrently, with several other offences taken into account.
Posted: 3:14 pm December 7, 2016