EAMOM McGee believes his former Donegal teammates will get back to the Ulster Final again next season.
Donegal have played in the provincial decider in each of the last six seasons, but the big Gaoth Dobhair clubman will not be involved in 2017.
On Saturday night at the Donegal GAA Awards Banquet, the recently retired McGee and Colm McFadden received tweed jackets to mark the end of their playing service with the county.
They will be two difficult players to replace, but McGee does not think Donegal will fall away in their absence, as he believes they have too much talent in their dressing room.
"Donegal are still going to be knocking about, and in my opinion, they will be in the Ulster Final in 2017 again," said McGee.
"It's definitely within them when you have Ryan McHugh and Michael Murphy, Frank McGlynn and Karl Lacey, and you have boys coming up like Kieran Gillespie and Ciaran Thompson.
"When you have talent like that knocking about a squad, then a provincial title is definitely within their grasp."
McGee is content with his decision to move on, and he is looking forward to devoting time to his club Gaoth Dobhair, while he also indicated that coaching and working with development squads is something that he would like to do in the future.
Kieran Gillespie appears to be McGee's natural successor, and he like the other younger players breaking through have enjoyed success at underage level, and are now striving to make an impression at senior grade.
McGee said: "Kieran Gillespie came in and replaced me, and what people don't realise is that if Kieran Gillepsie keeps at it and keeps the head down, then he's going to be far better than Eamon McGee ever was.
"There's another few lads to come in behind Kieran Gillespie, so the future's good.
"We're competing in Ulster and All-Ireland minor finals, we've been knocking on the door at under 21s.
"I think there was an inferiority complex with Donegal for a long time. When I was underage at minor or under 21, it was just a case of 'we might win', and we very rarely did win.
"But the expectation there now is for minor and under 21 teams to be getting to finals and that can only breed success."
The winter training ban came to an end at the start of December, and the Donegal senior panel are now back in collective training.
Rory Gallagher's squad will play a challenge game against Sligo at Coláiste Ailigh next Sunday at 1.30pm.
Donegal were due to play at the Letterkenny School last year to officially open their new playing facilities, but the game against Derry was called off due to the adverse weather conditions.
Posted: 2:55 pm December 6, 2016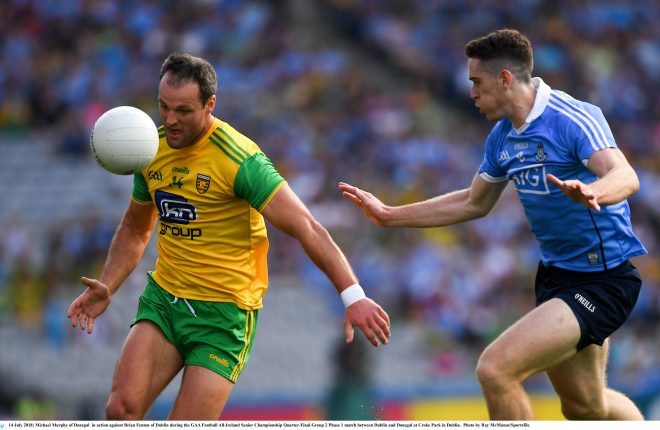 Dublin too strong in Croker.