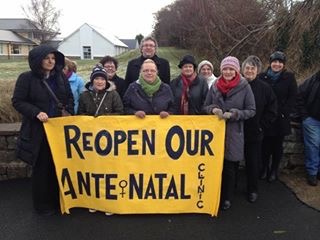 INDEPENDENT politicians, Cllr Micheal Cholm MacGiollaEaspuig and Deputy Thomas Pringle have welcomed the news that the Antenatal Clinic in Dungloe Community Hospital is to be restored but warn that the campaign will not be complete until the Gynaecology Clinic is also restored.
'I am glad to see the Antenatal Clinic re-opening in Dungloe' said Cllr Mac Ghiolla Easbuig. "It is a tribute to the campaign by GAN and the community that kept the pressure on Letterkenny University Hospital to make sure that the clinic was restored. The reality is that the community should never have been put in this situation and should not have had to fight to keep a service that they have always been entitled to."
'The HSE need to accept that it will not always be feasible in a county the size of Donegal for patients to travel to Letterkenny for appointments and it makes more sense for the consultant to make one journey to Dungloe rather than many pregnant mothers travelling to the hospital. For too long we in west Donegal are being kept at the mercy of Letterkenny staffing issues' said Pringle. 
'This campaign will not be finished until the Gynaecology clinic is reopened in the Dungloe hospital as well' said Micheal Cholm, 'Gynaecology and Antenatal Clinics have always been held together in Dungloe and they should be reinstated together. We will continue to push the HSE to make sure that the Gynacology clinic is reinstated through mine and Deputy Thomas Pringle's office.
Posted: 3:28 pm December 20, 2016