LAST Saturday night was a proud occasion for Alysha Heron and her family as she picked up the Youth Volunteer award at the Community Games Awards night in Galway.
It was suggested to Alysha that she might volunteer last year, and she hasn't looked back since, happily giving up her free time to aid the running of the Community Games.
"I would have been part of the Community Games when I was younger, and then last year, my cousin's daddy Tony McCarry, who is the PRO of the Ulster Community Games, asked his daughter Niamh and me if we would like to go down to Athlone and help out.
"We really enjoyed the experience and decided to go down again this year."
The Fanad area is traditionally very strong when it comes to football – both regular and indoor – in the Community Games, and Alysha enjoyed being part of her local team.
"I played football when I was younger and it was a great experience.
"It was great to get away and play on a team, and meet new people."
She now regularly helps out at Donegal and Ulster Finals, while over the last two years, she has also volunteered to give a helping hand at both weekends of the Community Games at the National stage in Athlone.
"Some people know what they're going to be doing down there, but we didn't, and we were doing different things every day.
"One day you might be keeping an eye on the bouncy castle and doing face-painting, and the next day you could be at the indoor football or basketball, and your job is to keep people off the court.
"We go down from the Friday to the Sunday and we all enjoy the weekend.
"It's definitely something that I would recommend people to do.
"A lot of volunteers are needed and it's a really fun weekend. It's nice to help out and if you're like me and studying Childcare it looks good on your CV," said the LYIT student.
Alysha was chuffed to be recognised for her volunteering and she attended Saturday night's award ceremony with her parents.
"I was delighted to get a call to say I had won, and I went down to Salthill with my mammy Margaret, and my daddy Charlie.
"There were over 100 awards handed out, and I was very happy when Tony O'Donoghue called me up onto the stage.
"It was a proud moment and I'm hoping to help out again next year.
There was more success on the night for Donegal, as the Best Area award went to Letterkenny, who had a large number of participants this year, and they also received the Ulster Provincial Cup for the best Area.
The Best Small Area award was won by Ramelton with Hilary Moore accepting the trophy.
In the Media awards, Donegal Community Games PRO Michael Crossan who won the 2015 overall award was the runner-up this time for his coverage of the games and also received the award for Best Article published on the Community Games.
Posted: 12:30 pm December 3, 2016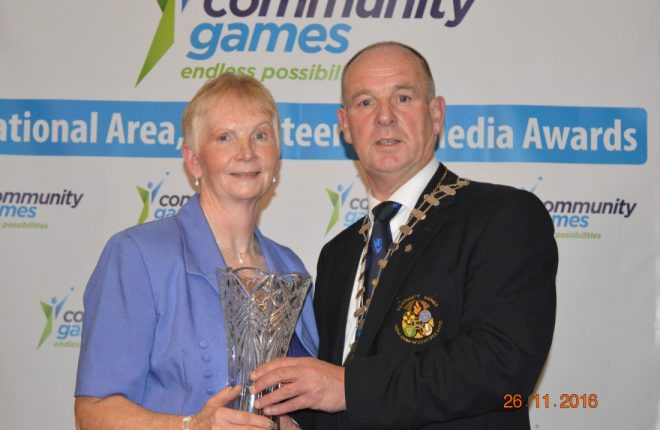 MILFORD woman Mary O'Donnell was recognised for her magnificent contribution to the Community Games when she picked up the...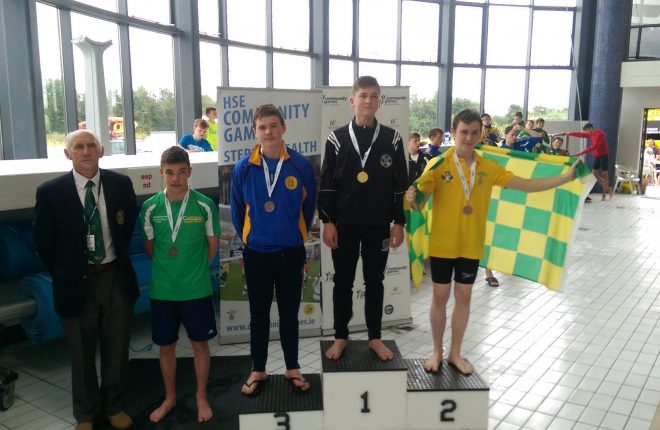 Success for Swilly Seals swimmers who represented Donegal in the national finals of the community games.