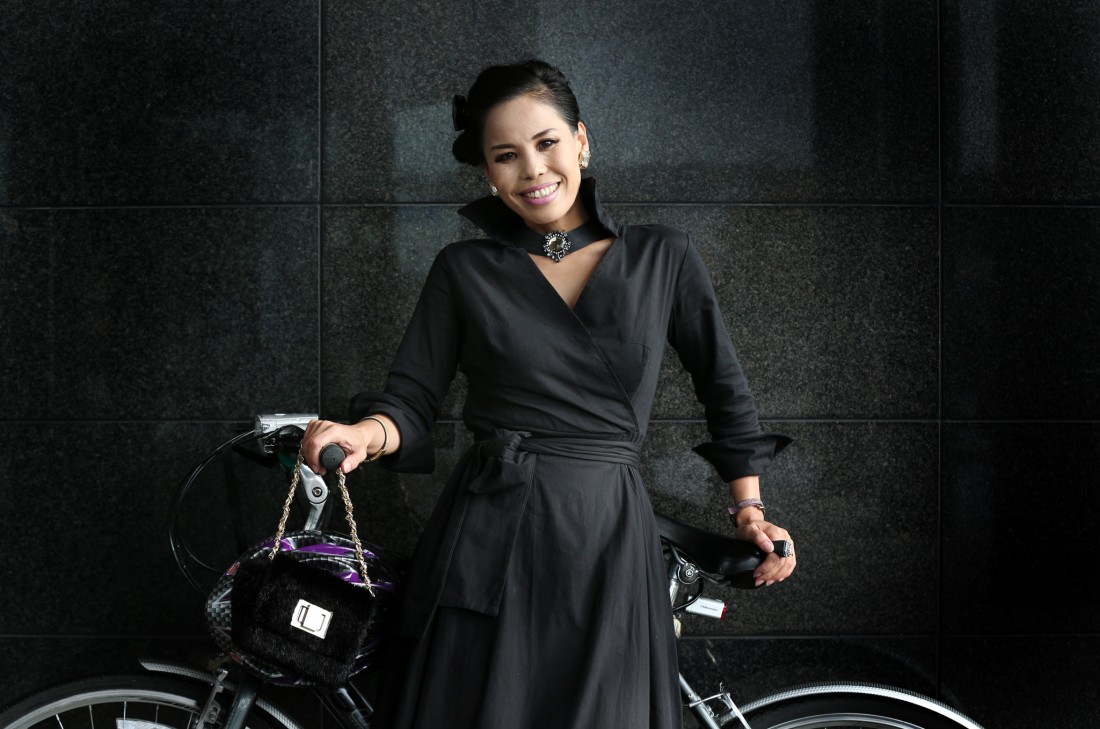 THERE is only one rule in Letterkenny's Jae Tourish's galaxy of style. There are no rules.
Rip the pages out of any instruction book that dictates what you can or cannot wear, shred them and throw up in the air like confetti. The petite power house, originally from East Asia, believes that style comes from within. Fashion is joyful and fun, "It is," she says, "to be enjoyed."
Expressive, earthy and elegant, Jae's many unique looks have already been captured in September's issue of Image as well as TV3's Xposé and the UTV news when she was featured at The Dublin Horse-Show Ladies Day and as a finalist for The Shelbourne Hotel's Most Stylish Lady. She now shares her boundless passion and enthusiasm on her new Facebook page- J'Style (www.facebook.com/Jfashiongene). 
Born into an affluent, upper-class family in South Korea, one of seven children, her earliest memories is of her mother's full length navy and white evening gown and a sky-blue cotton shift dress. She was captivated with colour, music, fabrics and art and as a child, aged ten, her father bought a treasured volume of Life magazine with images from the golden age of Hollywood. She is still an avid fan. 
"Audrey Hepburn and Greta Garbo are my idols. Since I was young, I've collected pictures, articles on these two style icons. They mastered the 1920s and 1950s look and that's probably why I love vintage so much." 
Jae grew up in a very "conservative" and consumer driven society in Busan, Korea's second largest metropolis but she always marched to her own drumbeat by creating her own look. 
"I was wearing long velvet coats and a fedora in the '90s. I never followed trends and still don't," she laughs. 'Shinsegae Centum City' located in downtown Busan, is the largest shopping mall in the world, it is wall to wall designer bling. Although she loves high fashion, she is not defined or constricted by its labels.  
'Where do I start?'
Favourites? "Where do I start?" she exclaims, "John Galliano and Jean Paul Gaultier, they are not just designers, they are artists and geniuses at what they do. I also like John and Simone Rocha, especially their expertise on pink colours. Another Irish designer, Helen Steele is amazing – she has her own unique world and I adore the textures and prints she creates." 
Jae's artistry and flair always produces an individual take on an outfit. "I always like to mix things up," she observes, "even in Paris," she recalls, "people used to came up to me in the street and ask where I bought my clothes. I can pull things together for e20." 
Jae is a devotee of charity shops, "great ones in Letterkenny" and the town's retail park. On the 'high street', "I like H&M, Mango, Zara and the Dunnes Gallery Collection," she says. 
Following sojourns in Hong Kong and France, Jae returned to South Korea to work in the creative arts. At this time, she met her Drumkeen husband, Stephen Tourish, who was teaching English. The couple and their four-year-old daughter have now been living in Letterkenny for nearly ten years. 
Jae remembers "On arrival, I cried in the car from the Derry airport for half an hour, and that was that. I love it here, it's my husband's and daughter's home and mine too." Her slightly alarmed family and friends declared: "Jae, Ireland is one of the most friendly countries in the world but the fashion styles are not very good." She laughs at the recollection. Does she agree?  What of designer Paul Costelloe's infamous spiel that Irish women were "only a couple of generations out of the bog. . . wouldn't know style if it tottered up to them in 10-inch heels," Jae replied politely, "I've heard this a few times but when I was at Ladies Day at some of the Horse shows, I saw so many fab, stylish ladies there that it doesn't quite add up. I would sum it up by saying that Irish women are just as beautiful as any other women in the world but occasionally their co-ordination lets them down. Anyway, from what I've seen, I think Paul Costelloe will have changed his mind by now, that quote is 15 years old after all!"
Is there a big style difference from her first home to her second? 
"Seoul is the fashion capital in Asia," she says, "but I think many Korean people still dress conservatively without good use of colour which is a bit boring! In Donegal, women wear more colour which I always love to see but I'd like to see Donegal women be more adventurous in choosing their outfits and accessories. I'd like them to be bolder and try things that they would never have considered before." 
Is Jae a fan of Donegal textiles? "I'm a big supporter of Donegal knitted wear and tweed. I visited Adara Heritage Centre a few years ago and stayed there for a few hours talking with Colm Sweeney. I knew about Donegal Tweed before I ever came to Ireland as it's one of Ireland's best products and it's used by some of the world's most famous brands. I was surprised it's not manufactured at a larger scale as the demand for it might be very high as it is such a good quality product. It would be great if the government helped such an important Irish business like this for both jobs in the region and to also raise Ireland's profile abroad. As Colm told me, 'When you buy a yard of Donegal tweed, it's not just a yard, it's a lot of Irish history you're buying'.
Her family and friends are thrilled Jae has decided to share her grand passion on her J'Style FB page. "At last!" her sister in Korea exclaimed, delighted that Jae has finally realised her fashion dream by following a colourful, happy, bejewelled path in expressing her fizzing creativity by sharing all that positive energy on J'Style. See https://www.facebook.com/Jfashiongene/?fref=ts
Posted: 5:09 pm November 7, 2016