DONEGAL County Council laboratory staff based at the disputed 'Kube' building in Letterkenny were refused entry to the landmark premises this morning.
The move comes just three days after prominent local developer, Mr Brendan Gildea, 'reclaimed' the building from the banks on Friday afternoon, changing locks in the process.
Currently the 15,000 sq ft premises has only one tenant, the Council's Central Laboratory, who occupy the second floor.
Staff were informed on Friday that Mr Gildea would be back on site this morning to open up the building and let them into their place of work as normal.
However, he told the Donegal News he was left with no option but to turn away staff as the council had not produced a copy of its insurance.
"As I stated on Friday, I have no issue whatsoever with Donegal County Council, however, I must ensure everything is in order," Mr Gildea explained.
"We served a number of notices on the council on Friday, one of which was that they produce insurance and they failed to do that. I am only acting on legal advice. A senior manger with the council, whomI know personally, asked for 24 hours to produce insurance. When that is done, I will have no problem letting them back in."
A highly respected developer and businessman, Mr Gildea has been involved in a long-running dispute over alleged monies owing to NIB/Danske Bank. The bank obtained an injunction against him in 2013.
Together with up to 45 people calling themselves 'The Helping Hand Group', he entered the building at Thorn Road last Friday afternoon to secure the premises.
This was done at around 3pm using a professional locksmith and in the presence of Gardai.
According to Mr Gildea, the Donegal County Council staff working at a laboratory in the building were notified on a number of occasions, through the manager Mr Joe Ferry, of the intention to reclaim the property.
Posted: 12:50 pm November 21, 2016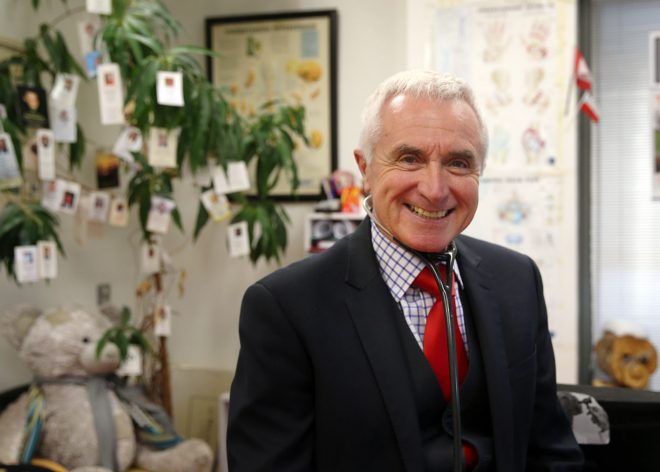 Letterkenny based GP Dr James McDaid said that an 'awful' lot of people across Donegal were using benzodiazepines.