IN 1946, Stanley Giles, an airman stationed in County Derry during the Second World War, took the bus into Letterkenny to buy an engagement ring for his girlfriend back in England.
This week, 70 years later he returned for the first time to the same jewellery shop on the town's main street where he bought the ring that brought him so many years of happiness.
Stanley, now aged 90, and his daughter Linda Stothard from South Shields called in to the Donegal News office on Wednesday to tell their story.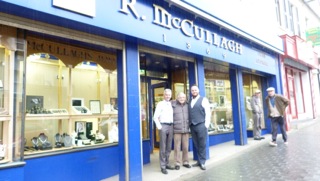 "My father was in the Fleet Air Arm at Eglinton for the whole of the Second World War. He found out he was going to be demobbed in 1946 and wanted to get engaged to my mother Doris on his return to England."
Ms Stothard explained that during those war years gold and jewels were an incredibly rare commodity in the UK. However, across the border in neutral Donegal, it was easier to come by and Mr Giles was ably assisted in his selection by staff at McCullagh's Jewellers (which at that time was located where Balls Jewellers is now situated).
Mr Giles continued: "I took the bus into Letterkenny and I remember a small row of shops at Upper Main Street and a pub on the corner. It cost me a full week's wages, thirty pounds, to buy the gold ring which had three small diamonds. They even made me a special leather pouch for the ring so that I could safely smuggle it back across the border."
On Wednesday Mr Giles and his daughter returned to visit McCullagh's jewellers which is now operated by the grandson of the man who sold him the ring in 1946.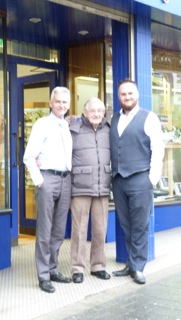 Ms Stothard added: "My mother's sister got engaged around the same time in England and her ring was nothing like my mother's, it only contained diamond chippings whereas there are real diamonds in my mother's ring." 
When asked if his wife was surprised when she was presented with the ring upon his return to South Shields Mr Giles joked: "I think she was almost expecting it. I was meant to be saving my money every week while I'd been away and I wasn't so good at doing that, so I thought that turning up with the ring might soften the blow!"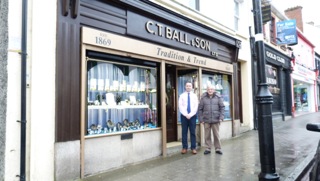 Sadly, Mrs Giles passed away in August of this year, 69 years after she and Stanley were married in 1947. Their daughter, who now proudly wears her mother's engagement ring explained: "My mother was a real homebird, she didn't like to travel and as a result, my parents never really went far from home. I made the decision to take my Dad on this trip to revisit many of the places that were important to him when he was a young man."
She concluded: "We had often heard stories of how my mother got her engagement ring and we are delighted to be able to come back to visit Letterkenny, it's a place that's really so special to our family. We have been overwhelmed by how welcoming and friendly everyone has been."
Posted: 2:23 pm October 28, 2016