A MOTHER-of-three who robbed an elderly woman in broad daylight in what has been branded as a "premeditated and despicable crime" was handed down a suspended sentence at Letterkenny District Court this week.
Romanian national, Monica Rostas, of Glenfin Road, Ballybofey, had been selling the Big Issue magazine when she targeted Bridget McElchar, robbing her of €1,250 when she snatched her purse in the horrifying incident in the town, just days before Christmas last year. Mrs McElchar, who is now deceased, had been aged in her 80's at the time of the incident.
Garda Inspector Michael Harrison told the court how on December 23 of last year, Mrs McElchar had been coming from a butchers shop on Chestnut Grove when Rostas approached her, forcibly putting a magazine up on her arm and then up to her face in a very threatening way before snatching her purse.
The court heard around €150 fell to the ground, but the rest of the money was not recovered. A number of passer-by's came to the woman's aid, who was not physically injured but was left very shaken by her ordeal.
Rostas, who has a previous conviction for another incident which occurred days before, was arrested but Inspector Harrison told the court she was "uncooperative and evasive" during her arrest interview.
Rostas, who was present in court with an interpretator, had earlier pleaded guilty on election.
Inspector Harrison said: "Everything happened so quickly but the money was never recovered. The injured party did not suffer injuries. There were two perpetrators involved."
Defence barrister, Gareth McCrory, told the court his client came to Ireland from Romania some months before the incident.
"She was selling the Big Issue magazine when she saw the injured party coming out of the butchers and she seized the opportunity to rob her.
"The whole experience was distressing for the elderly lady, who was vulnerable because of her age, but it is not the worse case to come before court."
The court heard some of the money had been recovered, but €1,065 was still outstanding.
Mr McCrory told the court how his client had lodged €2,000 in court.
"My client is asking for the matter to be dealt with in a non-custodial way. She is looking to move to Belfast. She tells me you won't see her in court again. She hasn't come to garda attention since this incident."
Judge Paul Kelly imposed a four-month custodial sentence suspended for 12 months on her own bond of €500. He also ordered Rostas to pay a compensation order of €1,500 to the family of the late Mrs McElchar.
"I suspect it was less impulsive than made out seeing as two people were involved. The elderly lady has since passed away. It's inconceivable that your client has no whereabouts of the money."
Posted: 12:20 pm September 27, 2016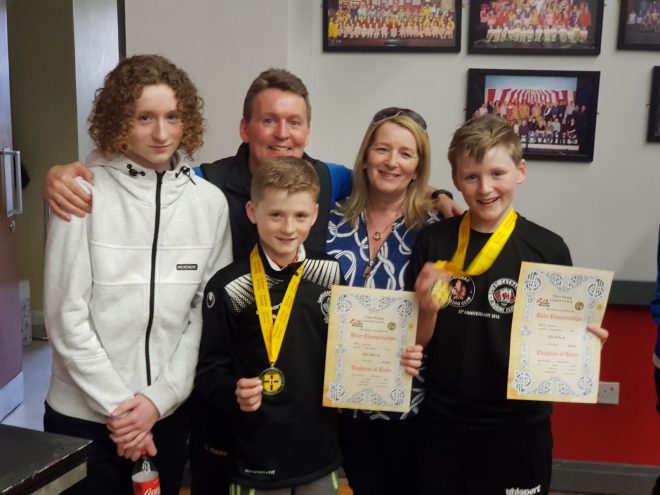 Seán Brady Devenney (11) and older brother Cathaír (12) from Corgary, Ballybofey, now progress to the All-Ireland finals in...
Inspired by the patchwork quilt 'Love Across The Waves' by Arranmore and Tir Boghaine Women's Groups, At The End...