DONEGAL may soon by twinned with a region in Eastern European country Georgia, according to Mr George Zurabashvili, Charge d'Affaires of Georgia.
During a two-day visit to the town last week, Mr Zurabashvili explained that both Ireland and his home country are at the periphery of Europe – Ireland in the West, Georgia in the East – and both have a history of fighting for their independence, both have a population of around four million, and are close to the same size.
Around 2,000 Georgian citizens live in Ireland and the Embassy of Georgia in Ireland has been open in Dublin for over a year, with the Embassy seeking to identify possible spheres for links between the two nations, particularly in education, trade and tourism.
During his visit, Mr Zurabashvili met Paul Hannigan, President of Letterkenny IT, Ms Toni Forrester, Chief Executive of Letterkenny Chamber as well as Cllr Terence Slowey, Cathaoirleach of Donegal County Council, and Chief Executive, Seamus Neely.
This year marks Georgia's 25th anniversary of independence from the Soviet Union, and the 20th anniversary of diplomatic relations between Ireland and Georgia. The country, which borders Russia and Turkey, is seeking to become an EU member state, and to forge closer relationships with countries like Ireland.
"The aspiration of the Georgian nation is towards the European Union. More than 80 per cent want to be integrated with the European family," said Mr Zurabashvili.
"Our traditional Georgian dancing is very much like Riverdance. We are very like Ireland in many ways; our people, our traditions and our fight for independence. The only difference I would say is the sunshine; we have a bit more sunshine!" he said.
Mr Zurabashvili said that Ireland serves as a gateway to business in EU countries and the US, and Georgia as a link between Europe and Asia, offering Irish businesses access to a regional market of some one billion people.
The Embassy of Georgia is also forging links with educational institutions in Ireland and is seeking to develop student and academic exchange programmes with universities here, with Mr Zurabashvili expressing an interest in the development of such a programme with Letterkenny Institute of Technology.
Twinning programme
A twinning programme is also being considered, with Mr Zurabashvili meeting with council executives to discuss the twinning of Donegal with a city or region in Georgia.
Tourism is another area it's hoped Ireland and Georgia may become linked, with Mr Zurabashvili describing the Black Sea country as filled with the best beaches and ski resorts, and excellent cuisine, as well as being the "birthplace of wine". There is archaeological evidence of wine-making in Georgia stretching back over 7,000 years.
Tourism is a growing sector in the Eastern European country, with 5 million tourists visiting the country last year, a figure that is increasing.
"Once you have been to Georgia, you fall in love immediately. It's a very hospitable nation, like the Irish are. On visiting Georgia, You will find another Ireland," Mr Zurabashvili said.
Speaking after a meeting with the Charge d'Affaires of Georgia, Donegal County Council Chief Executive, Seamus Neely said Mr Zurabashvilli was keen to highlight the similarities between both our regions particularly as important economic hubs.
"Our location means that we have the potential to act as a transatlantic hub into Europe and similarly Georgia has the potential to become an important hub into Asia and Europe.
"We are delighted that Mr Zurabashvilli has visited Donegal and taken the time to meet with us and with other stakeholders in the county including LYIT. We look forward to following up on this meeting with a view to establishing business and educational linkages that will be of benefit to both Donegal and Georgia," Mr Neely said.
Posted: 1:03 pm September 13, 2016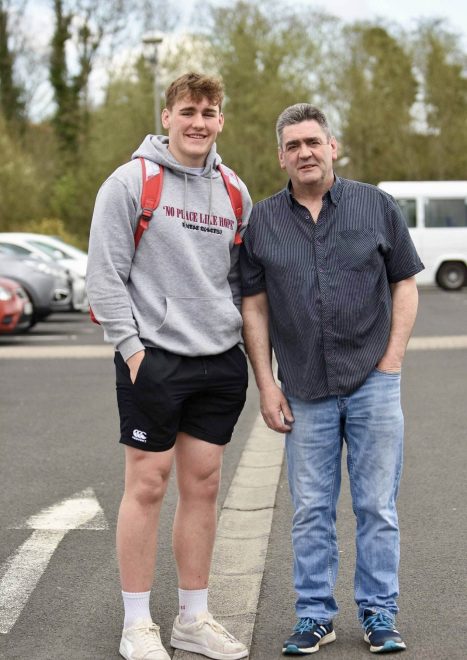 Dunleavy made his debut for the Ireland Under 20 team in their Six Nations Championship 30-25 win over Scotland...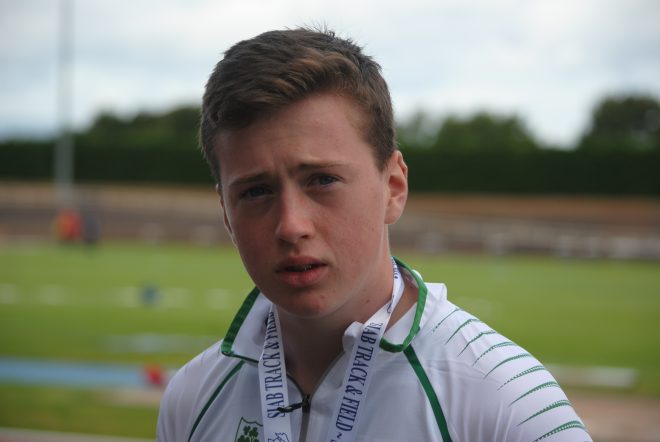 Brendan O'Donnell competes for Ireland in the Hammer Throw at the inaugural European Youth Athletics Championships