KELLY Wilson missed out on an Ulster Senior Championship medal last season, but she doesn't hold any regrets.

Wilson has been a loyal servant to Donegal ladies football, but last year, she decided to take a sabbatical from the set-up.
She watched on as Donegal defeated Monaghan in the Ulster Final and was delighted to see the girls that she had soldiered with achieve provincial glory.
It also reignited her desire to play for the team and she was happy to rejoin the panel this term.
"I stepped aside last year, but I don't have any regrets about it," said the 24-year-old, who is an area manager with Aldi.
"I suppose I had been involved for a good few years and I just needed some time to myself – a bit of a break.
"I was at the Ulster Final and was down on the field with the girls after the match and I was delighted for them.
"I think watching them did bring the hunger back and after a good year with the club, I was ready to go back again."
Wilson was not involved with the senior panel last year, but she didn't step away from the scene entirely.
She took over the role of the Ladies Board's PRO – a job she enjoyed.
"A few faces weren't going to let me leave the county scene too easily!
"I was nominated at our AGM and it was always something that interested me. It was a lot of work but I was happy to give it a go.
"I enjoyed it but unfortunately when I stepped back onto the panel, I had to give it up.
"I don't know what the policy is on bringing phones onto the pitch, but it wouldn't be easy to tweet and play."
When Michael Naughton was installed as Donegal's new manager, one of the first things on his agenda was to try and persuade Wilson to come back.
She accepted his invitation, but admits it took her time to get back up to speed.
"Michael spoke to me after he took the job to see if I had any interest in coming back.
"I joined up for pre-season and just trained as hard as I could.
"It was tough and it probably took me most of the league to get up to speed again, and I'm only really reaching my peak again now."
The St Mary's, Convoy star worked her way back into the team and played a key role at corner-back as Donegal got the better of Westmeath in the Division 2 League Final.
"The aim from day one was to get promotion to Division 1.
"Obviously we were looking to the senior championship as well, but the priority was to get promotion and get to play against the top teams.
"The games were coming thick and fast and it was great to beat Westmeath in the final."
Unfortunately, Donegal were weakened for their championship campaign with some players deciding to spend the summer months in America.
That was a blow to Donegal's cause and they relinquished their Ulster crown against Cavan in the provincial semi-final.
"Nobody likes to lose players and I suppose we lost more than most.
"But we knew we still had a lot of ability in the team and a couple of girls that maybe should have been in the squad came in and brought up our numbers again.
"After the league, we just said that we had to focus on who was in the dressing room, and that wasn't any disrespect to the girls that weren't there.
"Unfortunately Ulster didn't go the way we wanted it to, and if we're honest, we just didn't perform to the level that we can."
Donegal received a tough draw in the qualifiers against a highly-rated Galway team.
There was pressure on Naughton's charges to deliver and they did that with a 3-15 to 4-11 victory.
"We gathered ourselves again and regrouped, but it was a long break from the Cavan game to the Galway one.
"In fairness to Michael, he organised a few challenge games so that meant we weren't just training. Nothing beats competition.
"It was always going to be a tough game against Galway as they have been there or thereabouts over the last couple of years.
"It was a big game because it wasn't just a quarter-final spot at stake. We needed to win to keep our senior championship status for next year, so it was a big win."
Dublin manager Greg McGoingle was an interested spectator at Donegal's win over Galway and he will have a plan in place this week.
McGonigle has lost four All-Ireland Finals since 2011 (two apiece with Monaghan and Dublin), and he is desperate to lift the silverware this year in September.
The girls in blue will be formidable opponents, but Wilson says Donegal will be ready to rock in Longford.
"We'll definitely be heavy underdogs for the game. That's probably our preferred position to be in.
"We know last week's performance will not be good enough, but we have been working hard at training and it's up to everyone to lift their game.
"Dublin have a big set-up and they have been putting in a lot of effort. Greg didn't manage to win the All-Ireland with Monaghan and he'll want to do it this year.
"They have a great bunch of footballers, but that's what you expect when you reach this stage.
"We've earned the right to be in the last eight just like Dublin. It's going to be a tough match, but if you want to be the best, you have to beat the best."
Posted: 12:00 pm August 13, 2016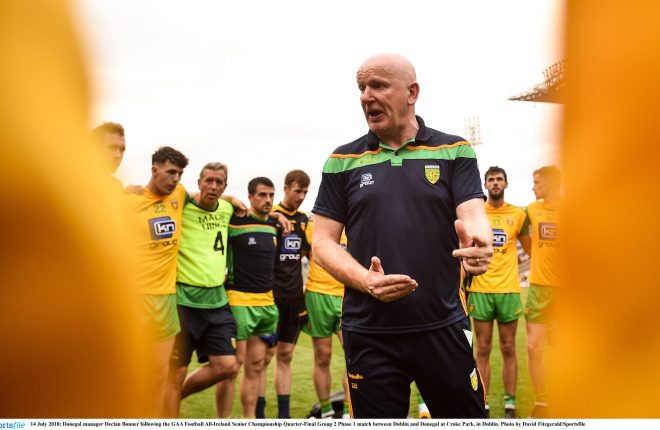 Donegal face Roscommon in Dr Hyde Park on Saturday at 5pm.