There is no mistaking that Toyota are consistently the Top selling marque in Donegal and 2016 is no different. To the end of July they occupy the No 1 position with a 15.35% share of the market and 490 units registered. This is 85 units ahead of Hyundai who are at 405 units and Kia in third place at 351 units according to the official statistics published by the SIMI.
The Toyota brand is well loved and recognised as a marque of great quality and performance. The fact that they have a number of models consistently occupying the Top 10 position shows the strength of the brand and the range of vehicles available to suit all needs and budgets.
For 2016 the Toyota Yaris , Auris, Rav 4 and Corolla all occupy the Top 10 selling models.
The Yaris is Toyota's best selling model in Donegal in 2016, it has 15" alloy wheels and fog lights now as standard on the Luna grade and is available from €14,995 or €145 per month, it is the best selling car in its segment with double the registrations of its nearest competitor the Opel Corsa.
The Auris is now available with a free technology pack worth €1,250. It includes Toyota Touch Multimedia System, Cruise Control and Rear ViewCamera.There are a variety of diesel and petrol options and can be yours from €21,205 or €204 per month.
The Corolla now comes with a free technology pack worth up to €1,100. The free technology pack with the Corolla features Cruise Control and Toyota Touch 2 multimedia system which features a colour touch screen display with Sat Nav, radio, CD, USB, iPod and Aux inputs as well as Bluetooth streaming. The Corolla is available from €0,995 or €202 per month.
The Toyota Auris & Corolla occupy No1 and No2 positions respectively in their segment in Donegal ahead of the VW Golf, Skoda Octavia and Ford Focus.
The Rav4, the original SUV redefined has had a great success since its launch of the new model in 2013, it is available from €29,950 or €287 per month. It is now available in Hybrid, 2WD or 4WD options and features include Smart Entry & Start System, 18" alloys, chrome surrounds, LED lights and a host of other essentials.
Speaking to Mr Brendan Kelly, Kellys Toyota he stated that "they are delighted with the strong performance of Toyota in Donegal once again in 2016. We have occupied the No 1 position since 2007 with the exception of 2012 when VW were top, this is quite an achievement in a tough market place and given the turbulence in the industry in the last few years.
We believe there are a few key factors which help us retain this advantage, we have a large selection of models to cater for all our customer's needs, we listen carefully to our customers and try to match their needs with a suitable vehicle, we have worked hard with Toyota Ireland to secure attractive financing options and lastly the brandhasagreatresalevaluewhich has been proven in various surveys, this is of great benefit to the customer when negotiating a new deal.
We have recorded an increase in sales of our hybrid range of vehicles in 2016. The perception and attitude of the customer towards these vehicles is changing rapidly which is very important given that they will become mainstream in the not too distant future. Toyota added the Rav 4 Hybrid to the range in 2016 which already includes the Yaris and Auris and the new Prius came on stream in April and has received great reviews in the press nationally. We are currently taking part in the
Hybrid Challenge which is ongoing at the minute, feel free to give our sales staff a call for details.
It was great to see a noticeable return to the marketplace of the commercial customer this year, our sales of Landcruisers has increased significantly. The new Hilux has just been launched and we are expecting a new Proace in September / October.
We are looking forward to the remainder of 2016 and into 2017, the launch of the eagerly awaited new C-HR in November, Toyota's new crossover jeep, is bound to garner great interest ahead of the new registration period in January and no doubt help in ensuring Toyota continues as the market leader in Donegal".
Brendan extended a welcome to all to visit their showrooms in Mountcharles or Letterkenny to view the wide range of cars available and where their experienced sales staff will offer their help and advice. Alternatively visit www. kellystoyota.com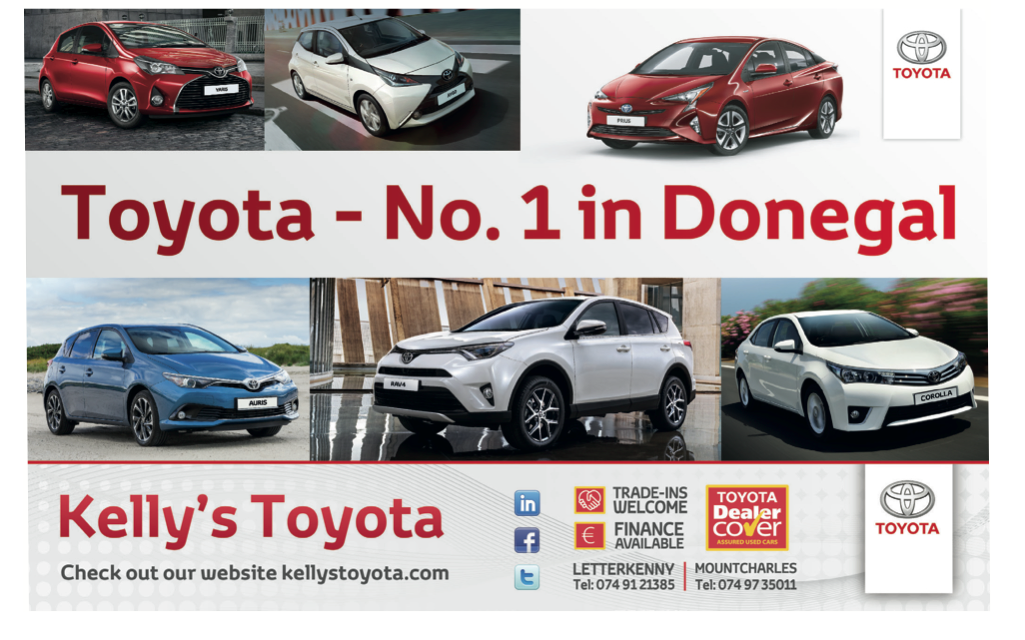 SPONSORED CONTENT BY: Kelly's Toyota
Posted: 9:30 am August 6, 2016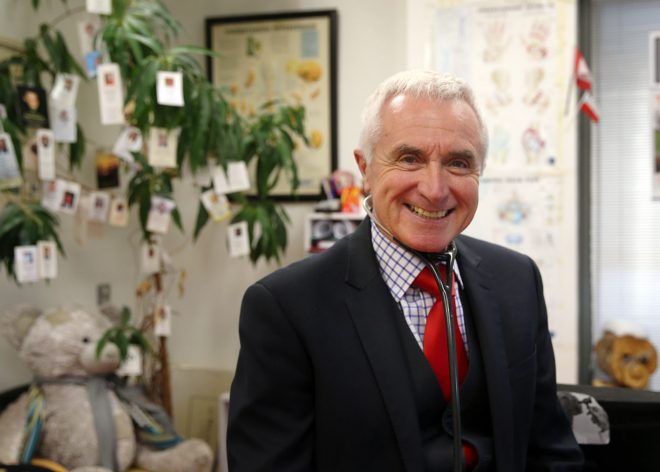 Letterkenny based GP Dr James McDaid said that an 'awful' lot of people across Donegal were using benzodiazepines.