ANYONE complaining about 'young people these days' should grab the few remaining seats for The Butt Drama Circle's production of the hit musical 'Grease'.
Opening tomorrow night at The Balor Theatre, the first four shows have already sold out. However, some tickets remain for the two extra nights, next Monday and Tuesday.
The idea of the summer show is the brainchild of local teenagers, Zara Gillespie, Aoife Browne and Michael Duffy, who wanted to give something back to the local drama group.
Zara is also the show's joint choreographer with Michael and she is joint producer along with Michael and Aoife.
The entire cast is up of teenagers from across Donegal and they raised their own funds to make it all possible.
In addition, two cast members go to extraordinary lengths to make it to rehearsals five nights per week.
Hannah Doogan makes the two hour round trip from Kilcar while Nathan Keys cycles 40 minutes each way from Convoy.
Director, Caroline Bell, heaped praise on the cast and crew, saying they are an inspiration to young and old alike.
"They have put in an awful lot of work and are a great bunch of kids to work with. In the middle of all the doom and gloom and talk about 'young people these days', they are most definitely a good news story," she said.
"Some of them are also working long hours in summer jobs and juggling holidays to make it to rehearsals each night."
Initially, she added, Aoife, Michael and Zara came up with the idea as they wanted to give something back to the drama club that gave them so much while they were growing up. Soon, a growing band of teenagers rowed in behind them.
"The fact of the matter is they have practically given up their summer to be here and make this work. Not one of them was forced to come here. I have been working with teenagers for years and I've yet to come across one bad one. This group is no different. Some teenagers just find it difficult to communicate with adults and what they say and do can come across in a negative way. Maybe it's just a lack of confidence."
Ms Bell said she wanted the group to do their own fund-raising to prove to them that they have to work hard to get what they want, and not just have it handed to them.
Initially, Nathan joined the crew just to help out back stage. However, he ended up getting a part and has been cycling from Convoy and back to make sure he makes each and every rehearsal.
"Nathan is actually the first person in the door every night. One evening he cycled as far as Kilross where he got a puncture, so he walked back home and got another bike. Then he cycled back to Ballybofey and apologised for being late.
"Hannah has also been making the two hour round trip from Kilcar without fail. The level of commitment from them and, indeed, all the cast has just been amazing. Initially, we asked adults to audition for the adult parts, however, such was the demand from the young people, we gave all the adult parts to teenagers as well."
Paying tribute to all the cast and crew, Ms Bell also thanked the Butt Drama Circle, The Balor Arts Centre, The Balor DCA, Cappry Rovers FC for the rehearsal space and stage manager, JC Bonar.
The full cast is: Meagan Lucas (Sandy); Daniel Browne (Danny); Aoife Browne (Rizzo); Michael Duffy (Kenickie); Zara Gillespie (Frenchy); John Clay (Doody); Hannah Doogan (Jan); Thomas Slevin (Roger); Lara Duffy (Marty); Dillon Doherty (Sonny) and Nathan Keys (Eugene).
For more information and bookings, call the Balor Arts Centre on 074 9131840 or log on to www.balorartscentre.com
Posted: 4:03 pm August 8, 2016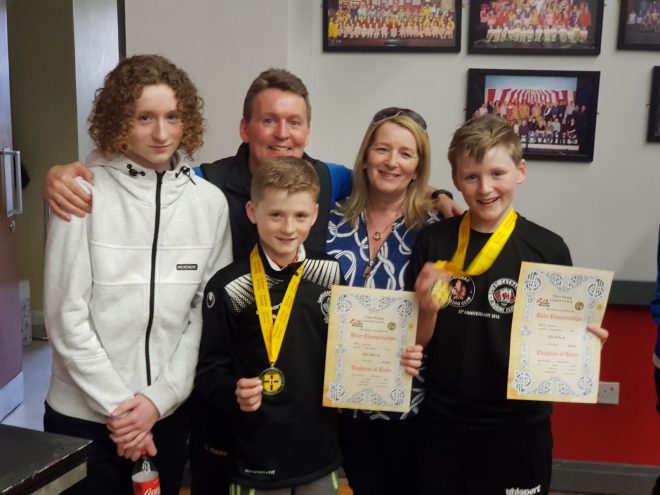 Seán Brady Devenney (11) and older brother Cathaír (12) from Corgary, Ballybofey, now progress to the All-Ireland finals in...
Inspired by the patchwork quilt 'Love Across The Waves' by Arranmore and Tir Boghaine Women's Groups, At The End...