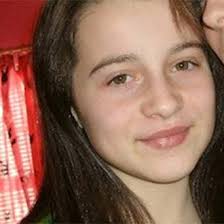 A THIRTEEN year old Ballybofey girl was subjected to online bullying before she took her own life an inquest into her death heard on Wednesday.
A sitting of the Coroner's Court in Letterkenny heard statements in relation to the death of Erin Gallagher whose body was found by her mother at her home at 15 Silverwood on October 27, 2012.
The last person to see Erin alive was a neighbour, Evelyn Gallagher, who gave evidence of seeing her wearing black hoodie and returning to the house at approximately 4.05pm on the date of her death.
Erin's mother Lorraine Gallagher, in her deposition to the court said that she had been born in Scotland and her daughters Erin and Shannon had been born there. She returned to live in Donegal where here son Sean James was born. 
Ms Gallagher explained that on October 27 she had left for work at the nearby McElhinney's department store at 9am. Later that day, at 2.30pm day Erin and Sean James called to see her at work and they had lunch in the restaurant there. She said Erin was in "good form" and was laughing and joking with her colleague.
"That was the last time I saw Erin alive," said Ms Gallagher. She was given a lift home at 6pm and said the house was in darkness when she opened the door. Her son Sean James was standing by the sitting room door and told her "Erin's just sleeping Mammy". However, Ms Gallagher said she realised that Erin had (taken her own life) and ran next door with her son and to get help.
A number of neighbours attempted to give CPR and Dr James McDaid arrived from NowDoc a short time after, but confirmed that Erin had passed away.
Evidence was also heard from depositions of Garda Stephen Campbell who responded to the call. Detective Garda Tom Ward gave evidence of performing CPR on Erin Gallagher but also in relation to his involvement in seeking information from social networking site ask.fm in relation to securing details of Erin's account. He said that a full report of her account was received but that due to expiration of time, it was not possible to identify the people who had interacted on her account from their Internet protocols.
Current Principal of Finn Valley College Mr Alan Thompson gave a full account of Erin's time at the school to the coroner's court. He had only taken up the position in 2013 and prepared the report through contemporaneous notes and from speaking with the former Principal Mr Dooley.
He outlined various interactions between the school, Erin Gallagher and her mother.
A detailed statement was also given to the coroner from Dr Don McDwyer Consultant Psychiatrist at the Child and Adolescent Mental Health Services (CAMHS), told the inquest that Erin Gallagher was referred to the service after attending with her local GP when she had  she had tried to take her own life in the school.
Coroner Dr McCauley gave a brief overview of the post mortem finding which was consistent with suicide.
Solicitor for the Gallagher family, Mr Patsy Gallagher said it must be stressed that all children who are moving from national to secondary school must know they can speak to people about their problems.
"There is always someone to speak to. Don't keep things to yourself."
The Donegal Education Training Board has a dedicated helpline, 074 9131684, for anyone who requires professional assistance.
Posted: 5:46 pm August 17, 2016