by Louise Doyle
l.doyle@donegalnews.com
A MOTHER desperately trying to save the life of her 11-year-old son has made an emotional appeal to the people of Donegal for their help.
The plea, from Charlotte Caldwell, comes as she revealed her son is battling a life threatening condition – for the second time.
First diagnosed with Intractable Status Epilepticus at birth, young Billy, from Castlederg in County Tyrone, was sent home from the Royal Victoria Hospital in Belfast in 2006 to die after doctors didn't believe the young boy – who had been suffering up to 30 seizures a day – could be cured.
However, refusing to give up on her son – and on the back of a major public campaign in the North raising £250,000 – the youngster travelled to Chicago in 2007 to undergo pioneering treatment providing him with a diagnosis and a care plan.
Defying all the medical odds, young Billy survived. In fact, he not only survived, he had, for the first time, an opportunity to enjoy his life through learning to walk, relishing attending school and even taking up horse riding lessons.
However, now almost a decade after receiving the life-saving treatment, the young boy could be braced to once again make the long journey across the Atlantic in a fresh attempt to remedy a new bout of life-threatening epileptic seizures.
Billy's mother, Charlotte, said that with the return of the deadly seizures, her only choice is to start another major fundraising campaign, and the devoted mum is now in a race against time to raise the £300,000 needed for the lifesaving treatment in the States.
Having exhausted all other options, Ms Caldwell said she once again has to turn to the public to ask them for their support. A campaign, 'Keep Billy Alive2', was launched last week.
Ms Caldwell said that the generosity of the public saved Billy's life before, and finding herself in the same situation, she once again needs to ask for help, on an even bigger scale.
"We have set up a Facebook page and Justgiving page and will be doing all that is possible to give Billy the best chance," she said.
Ms Caldwell says she is looking into every opportunity in order to get her son the tests and diagnosis he desperately need. However, with long waiting times preventing immediate access to specialist centres in the UK and France, Ms Caldwell said Billy's only hope of survival is if he makes it back to the doctor who initially treated him in the States, Dr Nordli, who is now based in Los Angeles.
Ms Caldwell said she has been told by Dr Nordli that as Billy is older, he may be a candidate for surgery. She said they could ideally fly out to him in the first week of next month.
Adding how she is "extremely worried" for her son, Ms Caldwell revealed she has to administer 12.5 milligrams of diazepam as a rescue medicine and oxygen every time her son has a seizure, which, she said, is taking its toll on his body.
"Due to this, he is becoming more unstable on his feet and the muscles around his mouth are worsening."
"Anything that the people of Donegal can do would be very much appreciated, be it donations or fundraisiers. Please get in touch."
Billy's courageous battle has attracted the attention of Belfast boxer, Carl Frampton, whom he met recently. The current WBA featherweight champion has pledged to support the 'Keep Billy Alive 2' campaign.
If you would like to organise an event to raise much-needed funds for Billy, please get in touch with 'Team Billy' by calling (0044) 07540356389, (0044) (0) 7968508250, (0044) (0) 7749315345, or (0044) (0) 7899910358. Alternatively, e-mail Keepbillyalive2@yahoo.com, see Facebook/Keep Billy Alive 2 or Justgiving/Keep Billy Alive.
Posted: 11:41 am August 22, 2016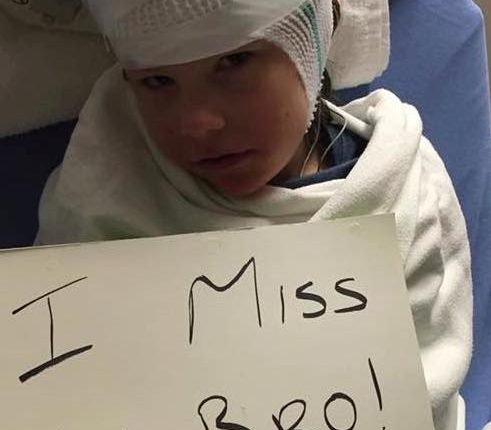 "This could be Billy's last chance and I don't want to give up the fight, but it's very difficult...