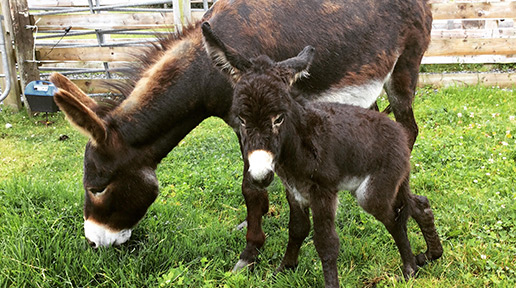 DONEGAL Donkey Sanctuary in Raphoe is urgently seeking donations to help a little foal who was born last week with a deformity in his hind legs.
Because little Timmy's mother, Twilight, suffered some trauma before she was rescued from a forest in south Donegal, Timmy was born with the condition which keeps him from walking and feeding properly. And while Twilight is trying to help him walk by nudging him gently he will need much more intervention if he is to stand a chance at survival.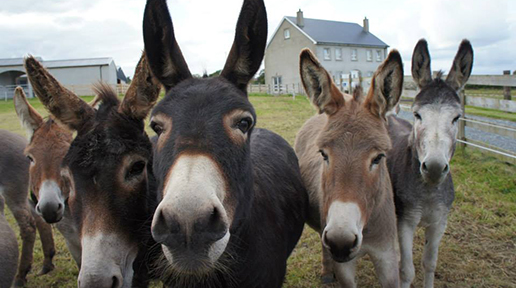 Speaking to the Donegal News, Danny Curran who established the sanctuary in 2007 with his wife Sandra, said: "We knew there was something wrong with Timmy as soon as he was born. We have been told by the vet he has a condition called lax tendons and that there are five different treatment options. His mother was in a very poor condition when we took her in last January and we now want to give Timmy every chance that we can to survive," said Mr Curran.
On Thursday they set up a 'Go Fund Me' page to raise money which has drawn considerable interest from people across Ireland and as far away as America. Already, they are close to reaching their €3,000 target but Mr Curran said they have been told by vets that Timmy's care could cost much more.
"His little hind legs are currently bent and twisted and he has a severe problem with tendons around the fetlock area.
With surgery and dedicated care, the vet is confident that he will be able to lead a happy and pain-free life with his fellow donkey rescues at the sanctuary, but the high cost of the treatment is too great a strain on the sanctuary's resources for us to fund ourselves."
He added: "The reality is that we don't know how much his care is going to cost and on top of that there are feeding costs and everything else associated with it. We are really dependant on donations of any size via the GoFundMe page 'A Lifeline for Little Timmy'. They will all be greatly appreciated."
Mr Curran said that the sanctuary is busier now than ever and said the number of donkeys in need of their support is "at the worst it's ever been".
"We currently have 64 donkeys in our care, 32 at the sanctuary, and the rest that we are feeding. The problem is definitely getting worse, we are getting calls every day. There are people emigrating and houses being repossessed leaving the owners unable to keep their donkeys.
"If we weren't here, I don't know what would happen. There would be a lot of donkeys looking out of forests."
The Sanctuary takes in donkeys that have suffered years of abuse and neglect or those from loving families who can no longer afford to look after them or are otherwise incapable of keeping the donkeys themselves. It has grown dramatically in the past nine years with Danny now working for it full-time and Sandra acting as lead volunteer.
Help is always appreciated, of course, and you can adopt or foster one of the gentle animals in their care by providing a small regular donation in return for an open number of visits to the donkey at the sanctuary.
Posted: 4:51 pm July 25, 2016