THE first Shannon class RNLI lifeboat to go on service in Ireland was officially named on Saturday at a special ceremony in Buncrana.  
The €2.4m vessel has already been on nineteen callouts since its arrival last year, including the drowning tragedy at Buncrana pier which claimed the lives of five family members.
Lough Swilly Lifeboat Station was the first in Ireland to receive the new boat, which is the most modern and technically advanced in the RNLI fleet.
The Shannon is the first class of lifeboat to be propelled by water jets instead of traditional propellers, making it the most agile and manoeuvrable all-weather lifeboat in the fleet.
It has a top speed of 25 knots (46 kph) and a range of 250 nautical miles. It was developed to operate in the worst of sea conditions and is self-righting, automatically turning the right side up in the event of a capsize.
It was officially named the 'Derek Bullivant' by the man responsible for getting the RNLI's latest Shannon class of lifeboat named after an Irish river.
Arklow man Jimmy Tyrrell was with the RNLI for 46 years, making him the charity's longest serving lifeboat operations volunteer on his retirement.
Jimmy was asked by Lough Swilly RNLI to officially name the lifeboat and he did so with the time honoured tradition of pouring champagne over the bow to cheers from the crowd.
A small service of blessing followed led by Fr Francis Bradley, Parish Priest of Buncrana and Reverend Judi McGaffin, Church of Ireland Rector.
The Derek Bullivant lifeboat was funded by legacies from Mr Derek Bullivant and Mrs Valerie Walker. Mr Bullivant was born in Birmingham in 1922 and went on to establish one of the biggest aluminium recycling companies in the UK.
He wanted his success to benefit lifesaving and humanitarian charities which led him to provide a generous legacy which helped to fund the Lough Swilly lifeboat.
The second legacy was bequeathed from Mrs Walker from Portsmouth. She was a supporter of the RNLI and her legacy has been used to part fund the lifeboat. A plaque honouring her will be placed in the lifeboat station.
In the 29 years since Lough Swilly RNLI was established they have launched 741 times, brought 568 people to safety and saved forty-nine lives.
Posted: 7:58 pm June 26, 2016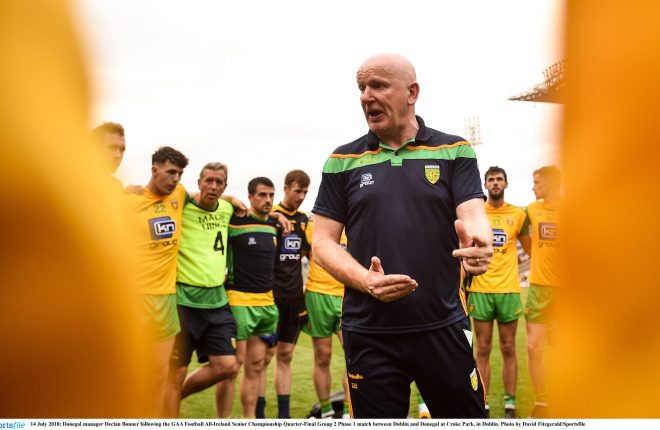 Donegal face Roscommon in Dr Hyde Park on Saturday at 5pm.