FRANK McGlynn was a young starlet learning his trade when Donegal last came across Fermanagh in the championship back in 2006.
The Glenfin was only 19 years old when Brian McIver called him into the senior panel, and he watched on from the sidelines as Donegal edged out Fermanagh in a scoreline of 0-8 to 0-11 in the qualifiers.
That game is remembered for a thunderous hit from Ciaran Bonner on Eamon Maguire, which left the Erne man needing to be stretchered off the field.
Donegal won that game to book a place in the All-Ireland quarter-final, but McGlynn says Fermanagh were tricky opponents.
"I think we played them back in 2006 in Brewster Park," said McGlynn.
"I was on the bench watching that day. My only memory is Ciaran Bonner's shoulder on (Eamon) Maguire. To be honest, I don't really remember it I'm just told about it that often by him!
"They were pretty similar to the Fermanagh team of now. They were quick and fast that day. They had Mark Little and boys like that playing, and they caused us a lot of bother.
"Similar to the (current) Fermanagh team, they had pace in every line and they were strong physically right from the full-back line up to the full-forward."
Fermanagh will be expected to cause trouble again, but their inside forwards appear to be more potent now.
In their Preliminary Round victory over Antrim, Tomas Corrigan and Sean Quigley combined to score 1-10 of Fermanagh's tally of 1-12.
McGlynn and his defensive colleagues have dealt with some of the best forward divisions in the country over the last five years, and they will have to be wary of Fermanagh's in-form attackers.
While Donegal do boast a good full-back line, McGlynn says they will be up against it unless sufficient pressure is put on out in the middle third.
"Fermanagh will be no different to any other team. They're going to ask a lot of questions and we just need to be able to answer them on the day.
"They have the two Corrigans and Sean Quigley in the full-forward line and those three are going to ask serious questions of any full-back line.
"You have the two McCuskers in the half-forward line, breaking at pace, and their marquee forwards aren't going to win the game without the supply coming in to them.
"They have two strong midfielders who are going to give them ample supply of football if they are let.
"It's up to the men out the field to stop the ball getting to the threat inside, and if we can do that we'll go a long way to winning the game."
The sides have already met once this year with Fermanagh claiming the honours in the McKenna Cup back in January.
McGlynn came on as a second half substitute, but he couldn't stop Pete McGrath's team from getting on top.
The Fermanagh supporters really got behind their team in the closing stages of that game, and there was a big roar when Noel Mooney blew his full-time whistle and declared the Erne county the victors.
Donegal will want to quieten the travelling party this week, and a good start will help them do that.
McGlynn said: "We'd be thinking that going into any championship game regardless, forgetting about the McKenna Cup game.
"You don't want any team getting their confidence levels up. Fermanagh are certainly a team that will punish you if they get their tails up and get running at you.
"We'll be aware that we need to get out of the blocks early and try and put the pressure on them and move on from there."
While Donegal didn't enjoy much success in 2015, McGlynn still had a fine season and was the county's Player of the Year.
He has seen many changes to the game during his ten years of intercounty football.
When Jim McGuinness took over as Donegal manager in late 2010, he needed his players to get fitter and stronger.
McGlynn joked that he was just back from his honeymoon when the changes were enforced, and wasn't in the great shape, but he looks after himself during the winter now.
"Since then (McGuinness took charge), there have been very few months when you have actually done nothing.
"You're always doing something whether it be the gym or just a bit of jogging to keep yourself ticking over and that definitely helps.
"From 2006 on in the off season, you were let do whatever you wanted from August until January when you met up again.
"You're doing more in those months now, and I suppose it does make it easier getting when you go back into pre-season and start the heavy training for the following year."
It's tough to juggle family life with work and his inter-county commitments, but the primary school teacher says he wouldn't be involved if he didn't want to be.
"It's not easy, but you do it because you want to do it. Nobody is putting a gun to your head to ask you to do it.
"Families and people at home get great satisfaction from seeing you run out on a pitch with ten, twenty, or thirty thousand people looking at you. It's a great sense of pride for them.
"It's a decision that you have to make at the start of the year, if you're willing to make those sacrifices.
"When that decision is made, you stay the course and you stick with it, and the only thing you pray for is that get your rewards at the end of the year."
Posted: 2:00 pm June 11, 2016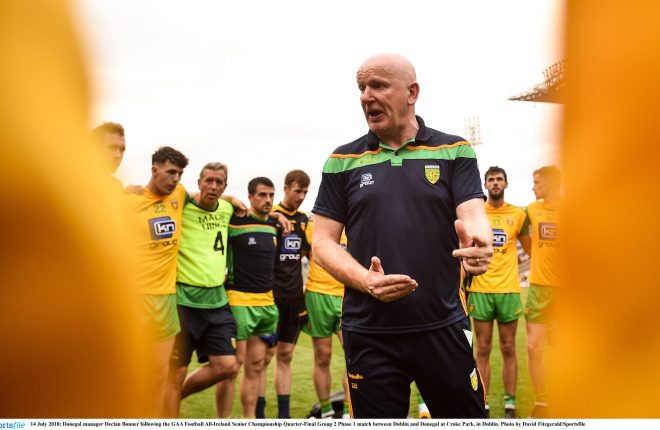 Donegal face Roscommon in Dr Hyde Park on Saturday at 5pm.