A YOUNG Letterkenny businessman is the winner of the second annual BTWEAS (Back to Work Enterprise Allowance Scheme) Regional Business Awards.
Derek Walker (28), owner of Simply Natural Health, was recognised at the 2016 Irish Local Development Company (ILDN) BTWEAS Enterprise Awards in the Cavan Crystal Hotel, Cavan Town, on Friday night last.
This initiative, this year to become a National Event, was to pay tribute and acknowledge the remarkable achievements of those individuals, previously unemployed who set up new businesses, creating employment for themselves and others.
Mr Walker, who also established the Letterkenny Artisan Market late last year with his fiancé Anna Mc Quade, will go now on to represent Donegal in the National Awards to be held in Dublin in September 2016.
A former student in St Eunan's College, Derek was diagnosed with a rare eye condition at the age of twelve. He rapidity lost a large portion of his eyesight and was then registered blind.
Speaking to the Donegal News this week, Derek explained that he went to countless interviews and found it very difficult to get a job.
Knee surgery
In May 2014, he had knee surgery and used wheatgrass to help recover from the operation. It was then that he had the idea to create a more convenient way to take wheatgrass – developing a blast frozen ready made wheatgrass juice shot.
"I began in a spare room in my house but quickly realised that I needed to expand. I approached the DLDC in Letterkenny and it was here I was taught about business and got the resources and support I needed to expand and I also gained so much confidence and belief in myself which helped drive me on," he said.
In November 2014, Derek registered Simply Natural Health and he started to get his products into shops while he also sold it at farmers' markets. Today he operates from a 10,000 square foot-state-of-the-art premises in Carrygally Business Park.
Having travelled all over the country to markets to sell his wheatgrass juice, Derek soon realised that they had nothing like it in Letterkenny.
In late 2015 Letterkenny Artisan Market opened its doors at Unit 1, Carrygally Business Park, Lismonaghan (the old quarry) which brings together 40 local food, craft and art producers every Saturday from 10am to 3pm.
Thanks
"I wish to take this opportunity to wholeheartedly thank each and every person who helped me to date. To everyone who stocks and buys my products. To everyone who trades and visits the Letterkenny Artisan Market every week, I sincerely thank you.
"I also wish to sincerely thank Collette Callaghan, Louise Brogan and everyone involved at Donegal Local Development Company. I would urge anyone who has an idea or business concept who is finding it difficult to make the make step to make contact with DLDC and they'll soon put you on the right path. Had it not been for them I would not be in the place I am in today," he said.
Tasty's Quick Service Restaurants promoters Jonathan and Mary Elizabeth Weir, with business in Quigley's Point, Carndonagh and Culdaff and employ 19 people between the three outlets will represent Inishowen in the National Awards.
Posted: 9:24 am June 3, 2016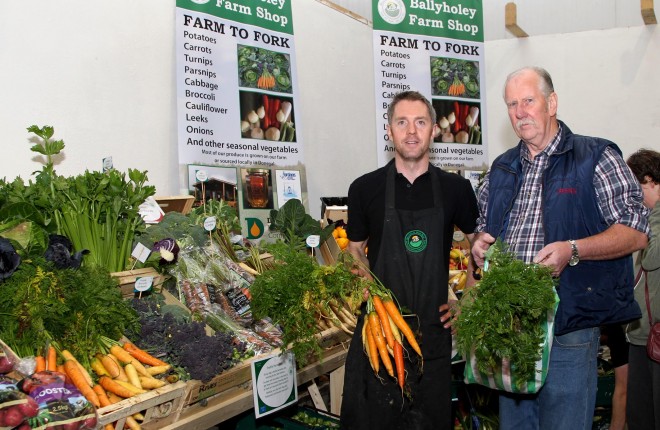 LETTERKENNY Artisan Market is now providing a weekly 'shop window' for dozens of small local food producers and craftspeople.