Armagh RFC 19 Letterkenny RFC 12
Letterkenny u18 left Ravenhill heart broken on Saturday last as they knew the final was there for the taking but they simply did not play to their full potential. Similal to the league final Letterkenny played better rugby but Armagh controlled the game to perfection through their outhalf and man of the match Cormac Fox.
Letterkenny started the game at a high tempo and dominated the opening quarter. Despite a missed penalty the Donagal lads had Armagh under severe pressure and were giving their large contigent of supporters plenty to cheer about.
A serious shoulder injury to influential hooker Stephen Holmes turned out to be a real turning point in the game. His replacement Douglas Doyle played very well but the dominant Letterkenny line out suffered as a collective and the pack lost focus for a crucial 10 minute period in which Armagh scored their only try of the game from a mid field scrum.
It was Fox who wrong footed the backrow defence to break the gain line and chip ahead for his full back to win the race to the touch down despite the best efforts of his opposite number Adam Boal Quinn. Letterkenny composed themselves and came right back at Armagh with Joseph Dunleavy and Daniel Faulkner leading the revival in typical fashion.
Letterkenny out half Peter Scott was also making excellent use of quick ball and Oisin Toal and Matthew Faulkner were both threatning with ball in hand.
Oisin Toal made a great break down the left wing but was charged into touch 5m short of the line which looked to all like a penalty and a possible penalty try for not using the arm in the tackle but the referee was to decide in favour of the Armagh team once again. He then awarded Armagh a very easy penalty 12 minutes into injury time to leave the half time score 13 0 in their favour. Letterkenny started the second like a team full of self belief and were dominating all aspects of play bar the lineout. Louis Carson was outstanding and was at the heart of everything.
Letterkenny finally got fast ball and this allowed the mid field to create space which outside center Matthew Faulkner exploited to great effect. He created an overlap and found substitute Kevin Grant on his shoulder to score from 30m out. The conversion was missed but it was evident this game was a long way from over.
Armagh then got a rare foot hold in the Letterkenny half from the kick off and worked an excellent Fox drop goal from a scrum to leave the score 16 5. Back came Letterkenny again with Daniel Faulkner and Joseph Dunleavy again carrying an enormous amount of ball to good effect. Once again the ball was moved wide where Grant was the provider to put Oisin Toal into space. Toal still had plenty of work to do but he used his speed and strength to beat three defenders and touched down under the posts. Scott added the conversion much to the delight of the Letterkennt supporters. It was now game on and all the momentum was with Letterkenny.
David Ward and James Roulston were now making ground in tight with ball in hand and Scott was keeping his back line moving. Daniel Faulkner made a strong break and managed to off load to his mid field partner Matthew Faulkner who continued the beeak with a sizzling 30m dash and chip kick behind the covering defence. He won the race to the ball and was about to gather and touch down for a winning score when he was tackled off the ball by the Armagh full back. The referee was consistent in dismissing claims for a penalty try and yellow card.
He awarded Armagh a scrum for a knock on and this allowed Fox to relieve the pressure. Credit Armagh who then worked themselves back into the Letterkenny half with time ticking away. They again benefited from the referees decision when he adjudged a query from a Letterkenny player as back chat. Perhaps the harsh Donegal accent was misinterpreted but it was a costly decision as Fox sealed the victiry with another three points from the boot. Only 4 minutes of additional time was added despite numerous stopages and inevitably Letterkenny ran out of time.
Disappointment can not describe the feeling in the loosing dressing room but a little luck is required to win any final at this level. Letterkenny were involved in one of the most exciting and high quality finals seen at Ravenhill in a long time.
Congratulation to Armagh who played smarter rugby, were better in the tight exchanges and had a match winning game manager in Fox. Letterkenny have now arrived at the top level of youth rugby and the challenge is to remain at this level at u14, u16 and u18 levels.
Letterkenny squad: David Ward, Stephen Holmes,Chris Green, Diarmiud Gallagher, James Roulston, Louis Carson, Martin Molly, Joseph Dunleavy, Ben Khavia, Peter Scott, Oisin Toal, Daniel Faulkner, Matthew Faulkner, Darragh Toal, Adam Boal Quinn, Kevin Grant, Connor Cannon, Josh Smeaton, Stephen Holmes, Will Douglas, Eunan Henry, Douglas Doyle, Jack McGarvey, Aodhain O Neill, Bailey Loughlin, Callum Reid and Jack Lafferty.
Posted: 8:54 pm May 8, 2016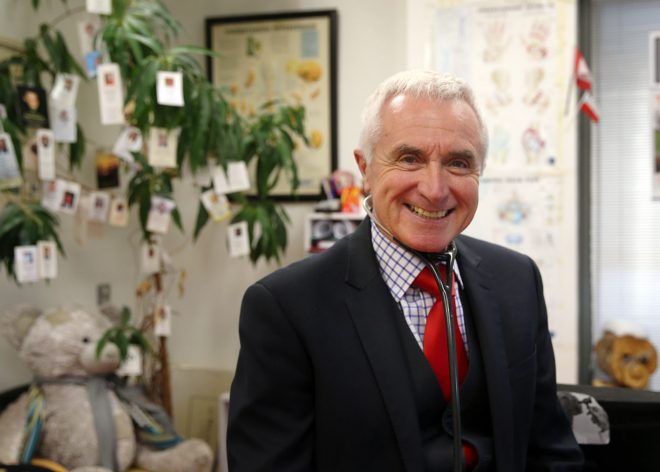 Letterkenny based GP Dr James McDaid said that an 'awful' lot of people across Donegal were using benzodiazepines.