A NEW world record price of almost £15,000 (€19,100) paid for a working sheep dog at an official sale, was set last week for a 16-month old Donegal dog.
It fell to 'Cap', a black and white dog bred by Padraig Doherty, who with his brother Joe, runs Ardagh Sheepdogs. The dog was sold at Skipton Auction Mart's late Spring sale in Yorkshire, England.
The selling price of 14,100 guineas, or £14,805, shattered the previous world high of 8,800 guineas (£9,240) also set at Skipton in May, 2013, for a 15-month-old.
There was tremendous interest in the impeccably bred Cap, who put in a sparkling display on the trials field at Skipton.
After making history as the new world record price holder, he sailed to his new home in Northern Ireland when falling to a sheep farmer who requested anonymity. Cap will be used as a work dog on the farm and is also an excellent nursery trials prospect.
His father Sid was also bred in Donegal by trialling legend James McGee, whose family runs Glencregg Sheepdogs in Creggan, Ballybofey.
Cap's mother is the Doherty family's Sue, whose own sire, Dan – the 2013 Irish National champion and also winner of 'One Man and His Dog' in 2014 – is a half brother to Mr McGee's 2011 World Sheep Dog Trials supreme champion, Becca.
Twelve months ago at Skipton, the Doherty brothers sold litter mates of Cap, with one of them, a six-month-old black and white bitch, Ann, setting the unbroken pen alight when selling for 1,850gns, the highest-ever price paid for a pup sold at Skipton.
Mr Doherty explained that there had been tremendous pre-sale interest in Cap, who could be seen in action via YouTube, though he said the eventual selling price was much higher than he had anticipated.
He thought Cap was probably his best-ever dog. "He is a special dog with genuine power and has a calming effect on sheep," said Mr Doherty.
Posted: 12:40 pm May 17, 2016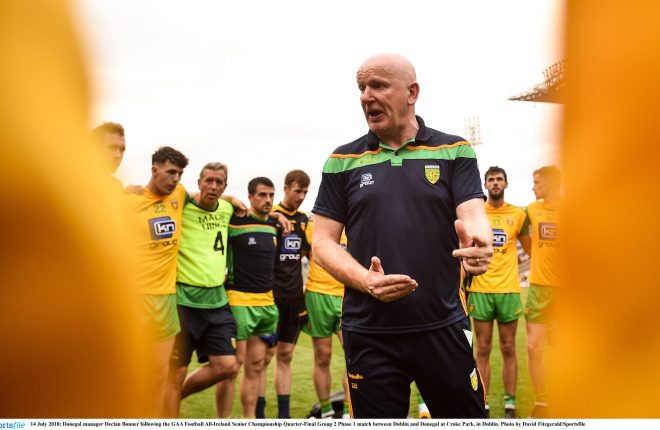 Donegal face Roscommon in Dr Hyde Park on Saturday at 5pm.