"When the final whistle blew I was overcome with joy. It nearly brought me to tears. Especially when we all met as a team, you could feel the bond we have as a team and we had all worked hard all year for this moment."
Annie-Rose Quinn was a delighted member of the LYIT team who were crowned All Ireland champions on Tuesday. The LYIT Ladies Gaelic team defeated IT Blanchardstown 4-15 to 3-15 in the Donaghy Cup final at UCD.
As the game got underway, LYIT captain Geraldine McLaughlin showed no sign of nerves as she netted two goals and one point inside the first five minutes of the game. IT Blanchardstown pushed their way back into the game and two goals from Alice McNally left the score line 3-6 to 2-7 at half time.
Both teams battled it out in the second half and with 12 minutes to go, the teams were level. LYIT pushed on, putting six points over the bar in an attempt to secure their victory. Despite their best effort IT Blanchardstown were unable to find the goal they needed and LYIT won by three points.
"The game got very intense and you could feel the pressure getting to everyone but we fought hard and as a team to overcome Blanchardstown and brought home the cup. We were waiting for the final whistle to go, knowing there were only 3 points in the game.
"Blanchardstown were fighting very hard to try and get a last minute goal and we were fighting even harder to keep the ball away from the goal area. It was a very nerve racking last few minutes." said Quinn.
At the final whistle, Geraldine McLaughlin had an unbelievable 4-12 on the score sheet, an All Ireland Medal and a well deserved player-of-the-match award.
"Geraldine had an outstanding game, she gave 110% and wanted us as a team to win the cup. She's a great motivator as she gets everyone fired up for the game and always has good tactics to share with the team. It's a pleasure getting to play alongside her."
The LYIT team made history this week as the first to take home the Donaghy Cup Title to the college. The ladies team is managed by Eamon O'Boyle, who has put in a huge effort getting the team ready for their campaign this year.
Quinn said: "Eamon is a great manager. He wanted us to do well all season and he always had belief in us from the first training session this year. He has so much information to share with us and is always having time to have the craic.
"The three boys Shaun, Colin, and Conal are always there every training session and every game. They are always on the sidelines and are very encouraging and so committed to the team. They are in 4th year and still made the effort to help us throughout the season."
Annie Rose Quinn joined the LYIT Gaelic team this year, and has already been crowned an All Ireland Champion. For some of these girls, this is their last year of their degrees and will be moving on next year.
"It would be amazing to have the same team again next year but there are a lot of girls finishing their degrees this year, so they will be a big loss, especially Geraldine. There will be new girls coming into the team next year and hopefully we can retain the title for another year! It was an amazing experience, getting to play with amazing players and friends from all over the county made it unforgettable to play for LYIT this season."
Posted: 11:00 am April 15, 2016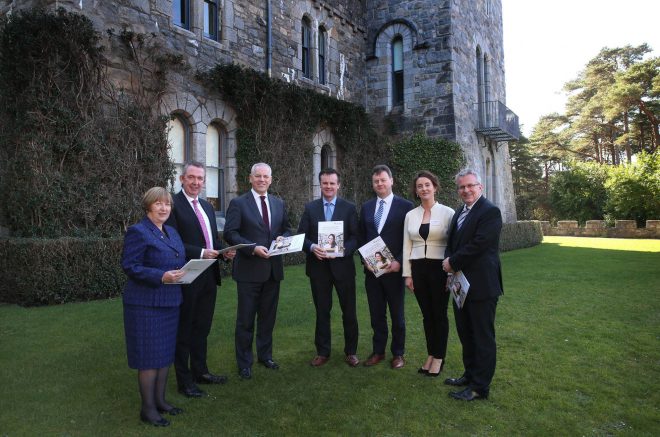 The Optum sponsorship scheme will provide valuable information on healthcare courses and career pathways in the region
    Three young Donegal designers made their way to Galway today for the finals of the Irish Fashion...
A member of Donegal Designer Makers, Parkinson's latest piece formed part of an exhibition which took place in Rathmullan...