WE'RE sitting on a gold-mine full of top quality food and drink produce here in Donegal and all we need is a few miners to help bring that gold to the surface.
Such was the upbeat message delivered by Scottish businessman Alastair Dobson to people working in food related businesses in Donegal this week.
Mr Dobson from A Taste of Arran was a guest speaker at the 'Making Donegal Famous For Food' event in Ballyshannon as part of this year's Donegal Business Week on Wednesday.
Speaking to the Donegal News, Mr Dobson shared his experience of working collaboratively with other partners to develop his business and enhance the food reputation of the Isle of Arran.
He also spoke about his late grandfather leaving Letterkenny as a 13-year-old boy, walking to Belfast where he worked for his ticket to Scotland.
"When I got the phone call from Donegal's Local Enterprise Office I couldn't believe it. My grand-father was from Ballyboes just outside Letterkenny and he was the original food tourist.
"I've been over a number of times trying to work out the genealogy. His name was Matthew Dobson and he worked on John Russell's farm. About 1900 or 1901 – when he was thirteen – he upped and left. He walked to Belfast, worked for his ticket and ended up outside Glasgow where he got a job as a cattleman.
"He was soon picked up by the Duke of Hamilton who also had an estate on Arran, where he met my grandmother and the rest is history. I'm real proud now to be coming back over to square that circle," he said.
Family of farmers
Alastair Dobson comes from a family of farmers. His grandfather cultivated 25 acres into suitable ground on which to build up the dairy herd that inspired Arran Dairies' ice cream.
After working in sales for big meat firms, Mr Dobson came back to work for the family business in the mid-1980s before starting Taste of Arran in 2000.
Taste of Arran (ToA) is a producers' group, wholly owned by Dobson, of 11 food and drink companies based on Arran and includes such diverse businesses as Creelers Smokehouse, Bellevue Creamery, Isle of Arran Distillers and the Arran Chocolate Factory.
ToA is about selling an experience, and a place – the beautiful Scottish island is the group's unique selling point.
"Donegal is very like Arran – the culture, the feel to the place and the real sense of community spirit. The hospitality is a given so if they can get the food and drink elements right they're sorted," he said.
While there are lots of good producers, restaurants and cafes already in Donegal, Mr Dobson stressed the importance in ensuring that those products are well represented in the county before they set their sights further afield.
"Over the years I've visited food fairs across the world and seen some cracking small Irish businesses. I've been to specialist fairs in London, Germany and even Dubai where lots of small Irish companies are represented but you have to build up a very strong base closer to home first. Make it real. Get people shouting about the product that you have to offer," he said.
'Tie to a place'
So what products should Donegal businesses and start-ups look at establishing?
"Rather than being product specific you should look at something real – something that can grow your business from one of two people to ten to twelve people. Anything that you can tie back to a place – anything that you can tell a story about be that an agricultural product, food item or even the best chocolate.
"Be proud of what you do. Sometimes I hear it being said that Donegal is the forgotten county but I would say that's not true at all. You have some great produce while your hospitality is second to none – it's pure gold dust," he said.
He has become ToA's primary salesman, taking this burden away from many of the group members.
"In Donegal it's about the business people picking the right people to be their leaders and taking risks. Ask for government support but don't wait for them to run it for you. You have to have the right people on the ground," he said.
"I'm not coming to Donegal to preach to business people though. If they can learn anything from our successes and failures that will help them further along the track then well and good.
"You have to learn from both (success and failure). Never stand still. You've got to keep looking at new things but you have to keep it real too. There are plenty of stories to tell and you tell them well in Donegal. If you can add the right product to the hospitality that's already in place then Donegal really can go world-wide as a brand.
"You've a gold mine in Donegal. All you need now is the right miner to extract that gold. I love coming to Ireland where there's so many good stories and people. Anything I can do to help that would be a bonus," Mr Dobson said.
Posted: 8:00 am March 13, 2016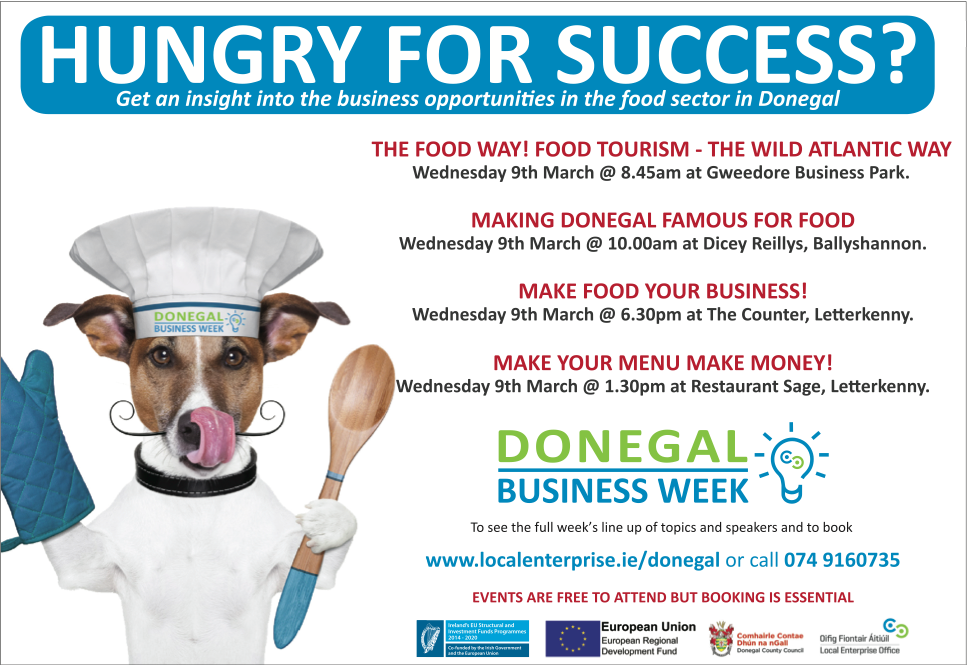 DONEGAL'S Local Enterprise Office is encouraging local businesses and aspiring entrepreneurs to take time out of their busy schedules...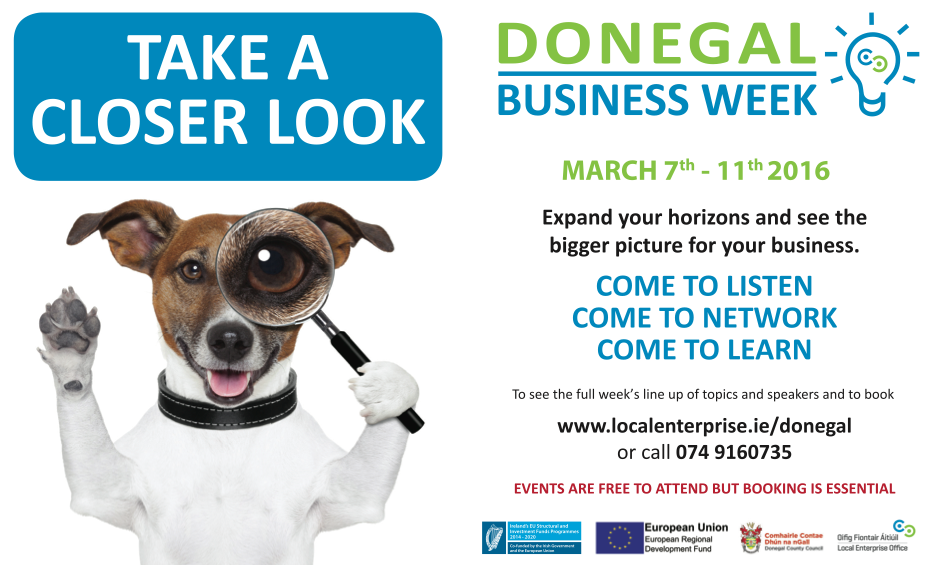 DONEGAL'S Local Enterprise Office is inviting businesses to get involved in this year's Donegal Business Week. Running from Monday,...