It doesn't seem that long ago since Martin O'Reilly burst onto the Donegal senior panel, but this is the Stranorlar man's fifth season of senior intercounty football.
O'Reilly was called up to the senior set-up straight out of minor football by Jim McGuinness in 2012, and has been an ever-present in the squad since.
However, nailing down a starting berth has not been easy and he found his game time limited.
He's had a few injuries and setbacks, while he also found some established seasoned campaigners standing in his way.
However, he remained dedicated to the cause and while 2015 was an underwhelming year for Donegal, O'Reilly made good progress.
"You just have to keep working hard," he said.
"Jim and Rory (Gallagher) took me in when I was 19 and obviously I knew I wasn't going to be playing regularly in the first one or two years.
"But you have to keep working hard, and Rory, and Jack (Cooney) and Brendan (Kilcoyne) are always giving you encouragement and advice to keep driving on.
"I suppose that's what kept me at it, and the opportunity to play with the likes of Michael Murphy and boys like that, and who wouldn't want to play with them?"
O'Reilly has shown persistence, but he understands why some players opt to step away from county set-ups when they are not getting much game time.
He acknowledges that there is a lot of competition for places within the Donegal squad, and just because you're playing in the league doesn't necessarily mean you will feature as frequently in the championship.
"You can see why, it's a huge commitment. But you have to keep working hard and you're going to have hurdles and you're going to have setbacks as well.
"The first year I got a couple of games and then I pulled my hamstring. You just have to deal with these things and keep working hard.
"If you work hard, your chances will come, it's just like anything in life.
"Rory basses a lot of it (team selection) on training and if I keep working hard hopefully I will be there or thereabouts (in the summertime)."
Donegal went out of the All-Ireland series tamely in the quarter-final last year, but it was a decent campaign for O'Reilly. He featured regularly and scored super goals against both Armagh and Derry.
However, he wasn't prepared to rest on his laurels, and he hit the gym in the close season to help build up some added strength.
"I'm up in Dublin, and there's a good lot of us up there. Martin McElhinney is up there now, you have the likes of Caolan McGonagle, Darach O'Connor was up for a while, Hugh McFadden.
"Obviously, I had to get some gym work done and build my upper body.
"Thankfully, I got into pretty ok shape so far, but there's still a lot of work to get done."
O'Reilly is Donegal's Mr Versatile, and while Rory Gallagher did indicate that the Donegal management would try and identify a position for the MacCumhaills man, he has already played in a number of different positions.
He lined out at half-forward and on the edge of the square at times in the McKenna Cup, while against Down in the League he played at wing-back and marked Kevin McKernan.
He was been pushed further up the field again for the Cork game and showed that he hasn't loss his goal-scoring instinct, and he was also in the attacking sector against Mayo last week.
He doesn't mind which position he is told to play, as long as he gets on the pitch.
"I don't mind. Some days Rory might say you're playing half-back and the next you're corner-forward – it doesn't matter.
"It might be a cliché to say that you're just happy to get a jersey, and obviously that is the case. I don't mind – I'll play anywhere whether it's corner-back or corner-forward. I'm well up to the challenge and I'm just glad to get a jersey."
Donegal have started the year impressively and have won their first three league games. They also spent five days in Tenerife on a training camp and O'Reilly says that was an enjoyable experience and brought the squad closer together.
"We were in Tenerife for four or five days and we were living together, and sharing rooms, and we trained really, really hard out there.
"It gave us a chance to get to know players. There's some under 21s in the panel now, that maybe you wouldn't have played with before. There are lads that are only 18 or 19.
"It was great for bonding and we really worked hard out there as well."
The trip obviously did the team no harm as they got the better of Mayo last week. A clash with the Connacht side is always a big one for O'Reilly, as his father Terry hails from Belmullet.
Donegal do not have a great record in Tralee, but they will travel to Kerry this weekend, hoping to claim the two league points on offer.
"Look, it's great, six points out of six is absolutely fantastic, but we're well aware that Mayo were probably a bit late in getting started with the new management and all."
"But it's great, and at the end of the day, you would rather have six points that zero points.
"We're going to go down to Kerry and try and put in a performance. We're not going down there to give away two points just like that.
"It's always a chance for other boys to get an opportunity to put their best foot forward as well."
O'Reilly was part of the Donegal squad that were defeated by Kerry in the All-Ireland Final in 2014.
He didn't feature in the decider, but it was a loss that cut deeply. However, the team are using the pain of that defeat to push them on.
"Look it was disappointing. Jeez anyone who loses an All-Ireland and isn't disappointed shouldn't really be playing football.
"But obviously it will help us and it will make us stronger and hopefully it will be a good year for us."
O'Reilly is currently teaching in St Brigid's N.S in Castleknock, Dublin and he was expecting a bit of banter this week ahead of Donegal's trip to the Kingdom.
"It's a lovely school and we have a Kerryman as a principal as well. He's a big football man so there will be plenty of craic this week."
Posted: 11:00 am March 6, 2016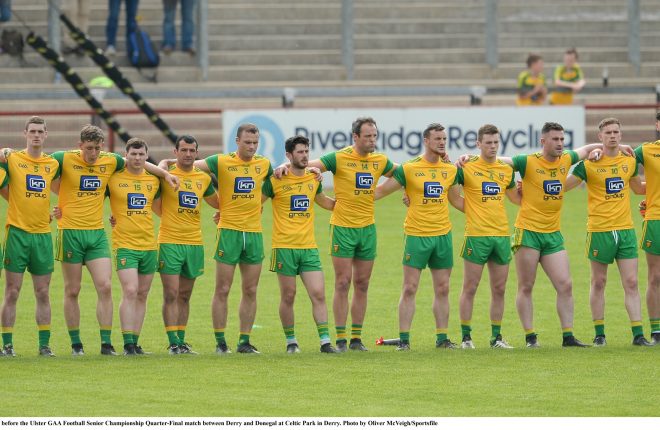 Everywhere I go this week, there is only one thing people want to talk about