KAREN Guthrie says Gaelic Football 'completes her life' and she couldn't even ponder not being involved with the Donegal ladies panel in 2016.
Guthrie has been a magnificent servant to Donegal for over a decade, but she endured a frustrating campaign last year, as an ankle ligaments injury kept her out for three months.
She didn't enjoy her spell on the sidelines and her long lay-off has made her even more determined than ever to put everything she has to the county cause.
"It will be my 11th season. I knew 110% that I wanted to be involved this year," said the Glenfin star.
"It sounds silly, but football completes my life. There's a massive gap when I'm not playing.
"I'm only 27 coming 28, so I'm not ready to be pushed out the door yet.
"Before I never got the chance to miss playing, but when you're out for a long time, you realise how important it is to you. There's too big of a gap without it."
Guthrie missed the first game of Donegal's league campaign as she recovered from ankle surgery which took places last November.
She needed to go under the knife last year, but put it off until Donegal's season was finished.
The midfielder did make it back in time to come on as a sub in the All-Ireland quarter-final defeat to Armagh, but with the benefit of hindsight, she doesn't think that was the right decision.
"It can be very lonely when you're out injured.
"I got injured in a club game the week before we played Westmeath in the league last year. I only got back two weeks before the Ulster Final, and trying to get championship fitness and that stage was impossible.
"The girls were super fit and it was very hard to get anywhere near the level they were at and I was well down the pecking order. I was too stubborn, because I needed the operation on my ankle, but it was very hard to step away then.
"But midfield is not a spot where you can be struggling as you just be unbelievably exposed. In hindsight, I probably should have went and got the surgery."
Donegal's season has gone to plan so far with victories over Westmeath and Laois, and Guthrie is content with where they stand.
"Things are going not so bad. We're two from two and we're happy with that.
"We beat Westmeath in our first game, although we did make hard work of it. It was only really in the last 15 minutes that we got going.
"They had a player sin-binned, and then we sneaked a goal and finished strong.
"We beat Laois last week, and we were probably thinking that it would be tougher than what it was. They travelled light and then the game was played in Moville as well which probably didn't help them, but it was a real challenge to get pitches."
Guthrie was back in action last week, and she showed no ill-effects of her surgery, as she blew away the cobwebs with a fine performance.
She notched three points before being replaced by Grainne Houston midway through the second half.
"Yeah, I was happy to get 40 minutes under my belt. I was thinking I might get 15 or 20 minutes, but then I started at half-forward.
"It was probably a good help that the match wasn't that tight. If it was closer, your mistakes and flaws might be more in the spotlight.
"It took us a wee while to get going, but we had the wind in the first half, and I think we were 13 points up at half-time, and we just eased our way through the second half."
Davy McLaughlin stepped down as Donegal Ladies manager at the end of last year, and Guthrie feels indebted to him for his contribution towards their provincial success this year.
Michael Naughton is back in the managerial hotseat, and she says the Sligo man will put his own stamp on the role.
"Davy brought the whole thing to a new level and he brought us to an Ulster title. He was meticulous with his preparation and he was very well organised. We had a very professional set-up for two years.
"We're disappointed he has move on, but we know Michael well. He managed us in 2010 and came back again in 2012, so we're familiar with him.
"Every manager is different, and he'll have his own ideas and ways of doing things. But we're looking to push on now and build on Davy's work."
Donegal won the Under 21 'B' title last year, and Naughton has upgraded a number of those players into the senior panel.
It is a young, hungry squad, and Guthrie says that competition for places is intense.
"We have a good young team, and we have a lot of last year's under 21s involved. The average age of the team has gone down a lot since Aoife Mac (McDonnell) left again!
"Most of our players are in the 20-25 age bracket. You have the likes of Laura Gallagher, Ciara Hegarty and Eilish Ward, who have been about for a good few years, but you forget how young they actually are.
"There's huge competition for places, but you need that now. If you look at the men's game, you need 20 players and it's the same with the ladies.
"If someone is a bit off or not performing, you need a player to come in and make a difference."
Donegal face Sligo today and the Yeats county have struggled so far in the league and have lost to both Meath and Clare after winning promotion to Division 2 last year.
Despite that, Guthrie says they are always formidable opponents for Donegal.
"We haven't played Sligo in a competitive game in a few years, but we do play them, in challenge games very year. They're usually played in heavy ground in Ballyshannon and they are always dogged matches.
"They are a strong team and I find that they are very hard to turnover. We won fairly comfortably last year, but the scoreline didn't reflect how tough the game was.
"Sligo are probably in the top four or five teams in the league, so it will be tough, but we're confident we can make it three from three."
Posted: 11:00 am February 14, 2016
McKenna is hoping Donegal can beat Cavan 24 hours before the senior men go head-to-head in the same fixture...
2017 saw Donegal win the Ulster Championship while they also reached the Division 1 final, losing to Cork. Their...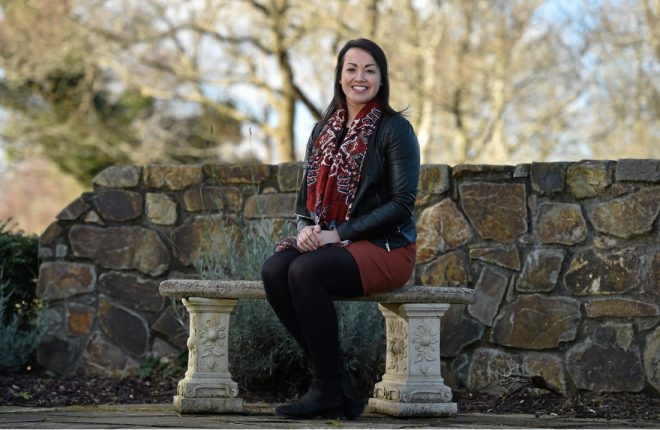 NICOLE McLaughlin isn't accustomed to life in the spotlight