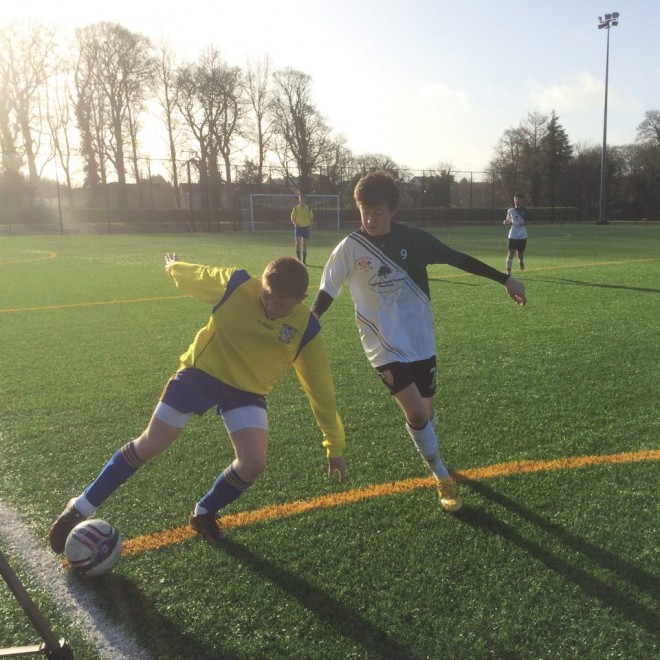 Loreto Community School, Milford proved too strong in their 8-1 win over Monaghan side Patricians High School, Carrickmacross in Omagh on Friday. Milford, who were lead by manager Patrick Curley and captain Adrian Delap, overcame the Monaghan outfit with a goal apiece from Patrick Carr, Gavin Grier, Sean Little and substitute Ryan Flood. Derry City youngster Shane McNamee and captain Adrian Delap provided two goals each.
The match got off to a slow start, with each side struggling to get shots on goal. In the 7th minute Milford were denied a penalty chance when Adrian Delap went to ground in the box. In the 11th minute, Connor Gormley got on the end of a cross unmarked. However he could only head the ball wide of the near post. Gormley, the Derry under-17 skipper, was unfortunate not to score in the game as he was a constant threat.
In the 16th minute Delap found himself in space in the penalty area and duly tapped away the goal. Almost immediately after, Shane McNamee turned inside after a Gormley pass, rounded a defender and deftly struck the ball into the bottom corner. Ten minutes later, McNamee fired home again, when he tapped the ball home from 3 yards out. Patricians failed to get a shot on goal in the entire first half and went in 4-0 down at the break after Adrian Delap teed up Adam Serrinha to score on the verge of half-time.
Milford fell asleep at the start of the second 45, and Patricians capitalised on this, with Kieran Slavin snapping up the rebound after Shane Graham saved a Cillian Marron shot.
Winger Sean Little and substitute Ryan Flood, who came on for Shane McNamee in the 52nd minute, netted goals for the Milford side in the 54th and 59th minutes. Adrian Delap displayed great technical ability to round the Patricians 'keeper, Eoin Muldoon, and tap the ball across the line. Right-back Patrick Carr scored the Donegal side's eighth goal in the 71st minute and helped to fire Loreto to their first final in eight years against Carndonagh Community School.
Referee: Vincent McLaughlin
Loreto Community School, Milford: Shane Graham, Patrick Carr(Goal 71′), Gavin Grier(Brad Patterson 77′), Connor Gormley (Martin Doyle 59′), Derek Edwards, Ryan Toye, Adam Serrinha Enda McCormick, Shane McNamee (Ryan Flood 52′), Adrian Delap (Ben McBride 68'), Sean Little. Subs: Ryan Flood, Mark Wilson, Ben McBride, Martin Doyle, Brad Patterson, Dane Dunworth.
Manager: Patrick Curley.
Patrician High School, Carrickmacross: Eoin Muldoon, Philip Clerkin, Shane Finnegan, Thomas Marron, Harry Monaghan, Sean Burns, Ciaran McNulty, Cillian Marron, Michael Connolly, Kieran Slavin, Sean McEnaney (Conor Mathers 35'). Subs: Daniel Leegan, Gavin McEnaney, Liam Kieran, Ronan Connolly, Aidan Woods, Conor Mathers.
Manager: Fintan McKenna.
Posted: 6:26 pm January 24, 2016