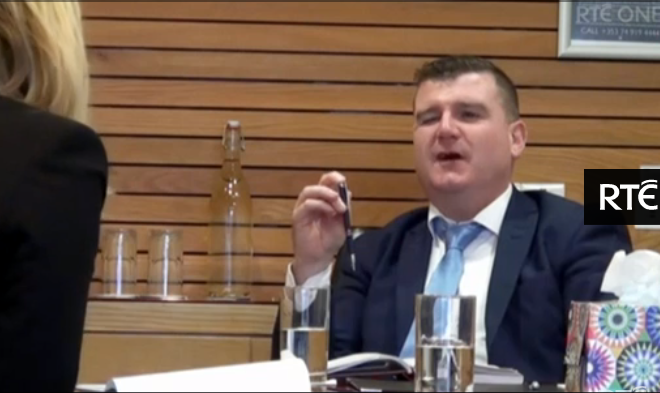 DONEGAL County Councillor John O'Donnell will be arrested if he does not appear in person at Letterkenny District Court on February 3 to address his failure to comply with an instalment order for more than €33,000 he owes.
The court was told that Cllr O'Donnell of 7 Largan Reagh in Downings was out of the country today (Wednesday). A Ms Petra Kucklick of Rooskey, Creeslough, is owed the money by the councillor following a personal injury award after he drove over her foot in 2000.
District Court Judge Paul Kelly issued the warning this morning (Wednesday) after Law Centre Solicitor Laura O'Reilly told the court Cllr O'Donnell had failed to comply with the judges order.
Solicitor for Cllr O'Donnell, Mr McElhinney said his client was looking for a period of one month to produce new documentation.
"A week before Christmas the papers were sent to Mr O'Donnell and he had arranged to be out of the country," Mr McElhinney said.
Judge Kelly asked if anything had been paid. Mr McElhinney said his client was not in a position to do so.
Judge Kelly said a number of assets were listed in the means list provided to the court and questioned if any of these had been sold. Mr McElhinney said he thought those assets were now all gone and had all been encumbered.
"What happened to the money realised?" Judge Kelly asked. Mr McElhinney replied that there was money owed on the 7 Glenard house.
"He is getting considerable rental income from these properties, you can see from the bank accounts but you cannot see any mortgage payments going out of the bank accounts," Ms O'Reilly added.
She described as "very slight" the documentation received from Cllr O'Donnell. She added that they had not received details of Northern Ireland bank accounts.
Mr McElhinney said he was not aware there were Northern Ireland bank accounts adding that all of his clients statements were in euro.
Judge Kelly adjourned the case peremptorily against Cllr O'Donnell adding "your client is to be in court. If not here the next day I will issue a warrant for his arrest".
The judge instructed Ms O'Reilly to write to Mr McElhinney regarding any documents she required before then.
Posted: 12:49 pm January 6, 2016