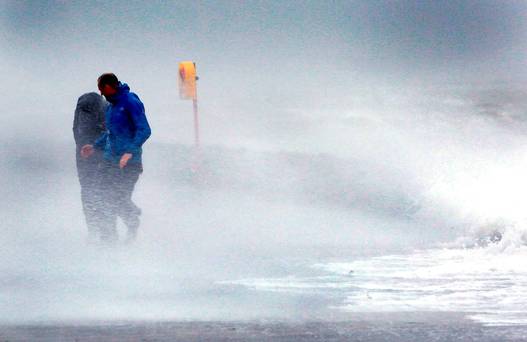 POWER outages are being reported across the county as strong winds from Storm Frank hit the county.
Earlier today ESB networks said they were expecting power cuts with the arrival of the latest storm to hit the Northwest. At present homes in Glenswilly and Churchill have no electricity while in the south of the county, power is out in Bundoran where 989 customers are affected.
ESB crews are on standby to deal with other power emergencies as they arrive.
Meanwhile, the AA have warned motorists to be vigilant as Storm Frank is expected to lead to flooding on many roads.
Met Eireann have issued wind and flood warning for Donegal and there are fears Storm Frank will trigger fresh flooding and inflict further storm damage. Gusts of between 100km to 120km per hour will batter Donegal and the national forecaster predicts between 40mm and 70mm of rain will fall between Tuesday and Wednesday.
Warnings have also been issued to members of the public to avoid coastal walks and seafronts areas as winds are expected to be particularly strong.
The Road Safety Authority (RSA) has advised road users to "expect the unexpected" during the stormy weather.
They have suggested drivers:
    * be aware of objects being blown out onto the road, in particular falling debris and vehicles veering across the road.
    * be aware that control of a vehicle may be affected by strong cross winds, with high sided vehicles and motorcyclists particularly vulnerable to strong winds.
    * allow extra space and watch out for around vulnerable road users such as cyclists, motorcyclists and pedestrians.
    * use dipped headlights at all times of poor visibility.
As a result of this severe weather, local authorities have warned that more flooding is expected in many areas.
Posted: 4:57 pm December 29, 2015