In July of this year, Aoife McDonnell was 'Player of the match' as Donegal defeated Monaghan to claim their first ever Ulster Senior Ladies title in Clones.
After spending two years in Sydney, Aoife was persuaded to come home by team manager Davy McLaughlin and help the team on their quest for provincial glory. She did just that, but unfortunately the Donegal ladies' 2015 season came to an end when they suffered defeat to Armagh in the All-Ireland Quarter Final.
"On a personal level, last season was a bit of a rollercoaster with Donegal," said Aoife.
"It took a while to get used to playing with the new girls on the team. I started playing at wing half-back and it took me a while to adjust. I hadn't played wing half since 2003 and I found it difficult to adjust my thinking as I'm naturally an attacking midfielder.
"I was put into midfield for Ulster in the interprovincials which we won in May and I started playing more like myself after that. I really enjoyed the summer and winning the Senior Ulster title was amazing. Unfortunately we had an abrupt ending in the All-Ireland quarter final but that's the highs and lows of sport."
The Glenties woman previously captained the Donegal team to an All-Ireland Intermediate title in 2010, before emigrating.
The prospect of another season in green and gold enticed her back to the Donegal shores, however, when the season concluded, Aoife made the decision to move back to Australia in order to find full-time work.
She re-joined the Cormac McAnallen club in Sydney, with whom she had previously won the local championship with the club. The Donegal woman also plays with New South Wales and since her return, Aoife added more silverware to her already impressive collection when she won an Australasia Games with NSW.
"I love playing Gaelic over here. We have the same type of training and game schedule. The standard of the NSW team was amazing with great players all round. We had some tight games which reflect the standard around Australasia. NSW have been dominant for the last few years in the competition and have managed to secure a fourth title in a row."
The talented footballer credits Gaelic football for making the distance between home and Australia easier to deal with but admits she does miss the people of Donegal.
"The thing I miss most about Gaelic football at home is the Donegal people! A close second to that would be a clubhouse or area of our own to train in. So many people have left Ireland and being involved in Gaelic games is a great way to keep that connection with home and our Gaelic culture. There is a great social aspect to it and it is lovely having the Irish community around you. It's like having a ready made Gaelic family with everyone being in the same boat."
Aoife has made no plans for 2016 but I don't think anyone would object to seeing her in a Donegal jersey again and I have no doubt she will continue to play GAA wherever she is in the world.
Posted: 3:03 pm December 14, 2015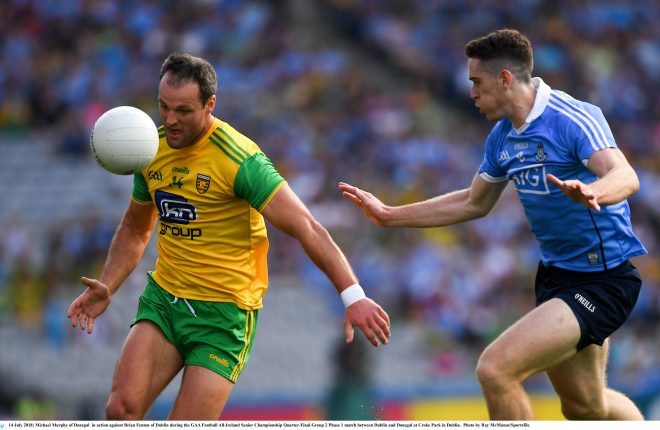 Dublin too strong in Croker.