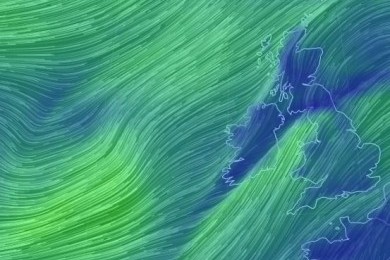 A STATUS Orange weather warning has been issued for Donegal with high winds and heavy rain expected as Storm Abigail lands tomorrow morning.
The Status Orange alert is being issued for coastal areas of the northwest of the country. A Status Yellow alert is in effect for the whole country today.
Winds could gust up to 120kms an hour, according to Met Eireann's Siobhan Ryan. The wind warning is to come into effect at 6am tomorrow (Thursday).
The wind warning is in effect for Donegal, Galway, Leitrim, Mayo and Sligo.
Winds will be strongest near coastal areas, peaking Thursday evening into early Thursday night. Thursday morning will start largely dry but rain on the west coast early on will extend eastwards. This rain will quickly become widespread and heavy throughout the country.
A yellow weather warning will be in place for the rest of the country, with lower level wind warnings.
Friday looks like could be a nasty day, according to Met Eireann.
Temperatures will drop significantly with afternoon highs of 7 to 9 degrees. It will feel significantly colder than recent days.
There is also the threat of hail or thunder in the west and northwest. This hail could turn to snow on the highest peaks in Donegal.
The first storm to be named by the public in a voting process is expected to land by tomorrow and will bring wind, rain and travel delays to parts of the country.
Storm Abigail  is expected to bring heavy winds to the north of the country.
Met Eireann are currently evaluating the storm and expected to update their warnings.
Last month the Met Office and Met Eireann announced a pilot project to name storms that may be blowing this way this autumn and winter.
They received thousands of responses by email, through the Met Office Facebook pages and @metoffice on Twitter.
The winning names were: Abigail, Barney, Clodagh, Desmond, Eva, Frank, Gertrude, Henry, Imogen, Jake, Katie, Lawrence, Mary, Nigel, Orla, Phil, Rhonda, Steve, Tegan, Vernon and Wendy.
It is hoped that naming storms will help raise awareness of severe weather and ensure greater safety of the public.
A storm is named when it is deemed to have the potential to cause a substantial impact in the UK and/or Ireland.
Posted: 4:50 pm November 11, 2015